Depending on the size of your print and your choice of substrate, you may have the option of choosing between either split-battens or a sub-frame to hang your final piece.
Once over a metre square, mounted prints will require the additional support of an aluminium sub-frame. It's important to note that fixings can only be applied to inflexible substrates, such as Dibond or Perspex. Materials such as Foamex and Kapa are not sturdy enough to attach fixings, as any flex will cause them to pop off. For these lighter materials, we often suggest Velcro for hanging. Sub-frames will also often be fitted within large-scale classic frames; hidden from view, but providing the frame with additional support and longevity.
Aluminium Sub-Frame
Once over a metre square, it is imperative to fix your mount with a sub-frame. Sub-frames consist of narrow aluminium strips that frame the reverse of the mount, these are bonded with a pressure-sensitive adhesive and usually allow a small border from the edge of the substrate. These prevent any warping, twisting or bending from happening, keeping the mount rigid: there is consistent support for the whole piece.
As well as this, sub-frames are often the more aesthetic choice, as they sit closer to the wall in comparison with battens, as well as being slightly subtler when viewed from the side. They also provide a way of allowing the mount to hang on a normal picture hook, but can also be hung from a batten, offering multiple hanging options.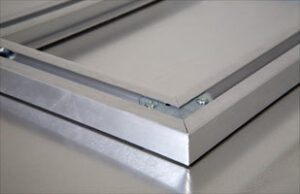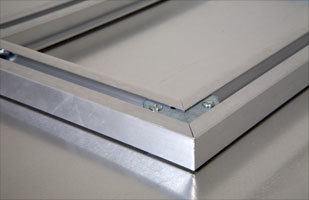 Split-Battens
Photo mounting with modern materials, such as aluminium and Dibond have become popular in recent years for their rigid, frameless sheer look and feel. The image appears to be floating and is due to their fixings. Split-battens are a set of wooden strips cut at an angle and designed to lock together. One is permanently fixed to the mount, whilst the other is for fixing to your wall. When using battens, the substrate can be up to a maximum size of 40×30 inches. Once over a metre square, there is not enough support for the mount using this method. Split-battens are a great way of achieving the floating aesthetic, but slightly more economical than a sub-frame due to the materials used.
At Metro, we have a variety of materials and combinations available. We're always interested in hearing back and aim to provide you with the optimum quality for your ideal finished product. For any further information, feel free to call us at 020 7865 0000 or email at enquiries@metroimaging.co.uk