Which photographic mounting material should I use?
Card Mounting
Card mounting is generally only used for mounting photographic and fine art Giclee prints to stiffen them for framing. Card mounting is considered an archival mounting material for photographs. We use grey centred board made from alpha cellulose providing very high degrees of protection. Our board passes the Silver Tarnish test making it suitable for mounting precious photographs. With a ph value of 7.5 even after 200 years, this board offers a very high protection for the future
.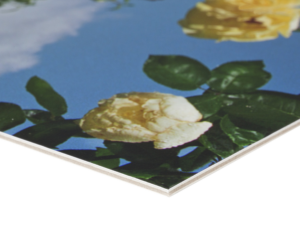 Foamboard Mounting
Foamboard is a lightweight mounting material used for large hanging signs and short term displays. It is only considered suitable for short term exhibition use, as it is overall quite a soft material, meaning the corners and edges are vulnerable to damage. Prints mounted to foamboard may be attached to the wall using double sided  velcro, or simply leant up against it. While the cheapest mounting material for pop up or short term exhibitions, when viewed from the side, the off white foam core is visible.  Foamboard is not considered an Archival mounting material.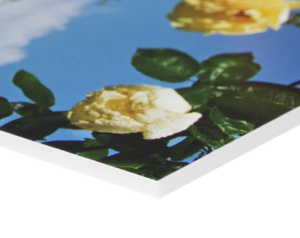 Foamex Mounting
Sturdier than foamboard,  Foamex is a solid PVC mounting material used for simple, non archival purposes such as exhibition prints requiring a durable substrate for touring shows or photographic exhibitions. Foamex has solid edges for a better visual experience when viewed from the side compared to Foamboard or Kapamount.  Foamex is not considered an Archival mounting material.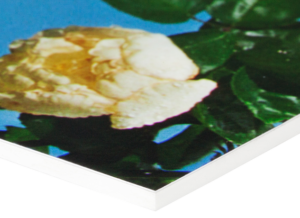 Kapamount Mounting Board
Kapamount mounting board is a lightweight mounting material used for large hanging signs and displays or as a smooth and rigid backing board for framing photographs. We use Kapa mounting board, known for its aluminium foil surface, which adds a layer of protection for photographic paper.  As shown in the picture below, when viewed from the side, Kapamount has a grey core. Kapamount is  considered an Archival mounting material.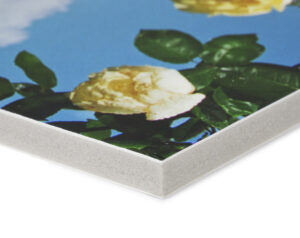 Aluminium / Dibond mounting
Aluminium / Dibond mounting is popular due to the appearance and archival quality of the material.  Aluminium has the advantage of a clean silver edge, whereas Dibond is a composite sandwich of aluminium and black pvc. Ideally you would order Aluminium with a subframe so that the artwork is rigid, especially at larger sizes, however to save cost, it can be ordered up to 40 x 30 inches with wooden battens instead.
Preferably, you would also add a Matt or Gloss photographic seal to aluminium mounting, so that your artwork has some protection, but note this can only be done for Ctype prints, not Giclee's.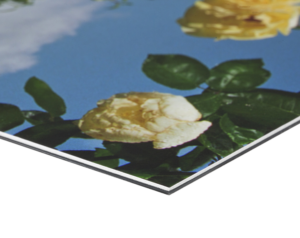 Reverse Perspex Mounting
Reverse Perspex (acrylic) mounting, supplied with an Aluminium sub-frame is a contemporary way to present photographic prints for interiors and exhibitions. The print is bonded to Acrylic  and then backed with Dibond. Once the Perspex has been bonded to the front of your print the refraction of light through the Perspex gives a high definition effect and deep saturated colour.