March sees the launch of a major new photography exhibition by Magnum Photos at the Sainsbury Centre, Norwich. The Body Observed will include over 130 works from the 1930s to the present, including the following artists:
Eve Arnold
Olivia Arthur
Werner Bischof
Antoine d'Agata
Bieke Depoorter
Cristina García Rodero
Bruce Gilden
Philippe Halsman
Herbert List
Susan Meiselas
Miguel Rio Branco
Alessandra Sanguinetti
Alec Soth
The exhibition will include archival prints and frames, plus new work printed by Metro Imaging, a mix of C-type, Fibre-based & Giclée prints, and finished with Bespoke Frames. The work explores how Magnum photographers have turned their lens to the human body, examining issues such as identity, intimacy, sexuality and ritual, to voyeurism and performance, amongst others.
The body has been a recurrent subject throughout the history of art, but the advent of photography offered new opportunities to engage with past modes of representation. Photography had the potential to mimic or subvert existing visual codes and the camera has been used to examine, categorise, scrutinise, and objectify the human form, establishing a new visual language.
The exhibition will include well-known images such as Eve Arnold's portraits of Hollywood icon Joan Crawford, and Philippe Halsman's Dalí Atomicus, a work selected for TIME magazine's "100 Most Influential Images of All Time" in 2016. Also included are photographs by Alec Soth from his series Niagara – an exploration of melancholy love in one of America's best-known honeymoon destinations -, images from Susan Meiselas' celebrated Carnival Strippers series, and a selection of Ophelias: The Adventures of Guille and Belinda by Alessandra Sanguinetti, inspired by John Everett Millais' classic painting.
A cooperative founded in 1947 by the photographers Henri Cartier-Bresson, Robert Capa, George Rodger and David 'Chim' Seymour, Magnum was initially established in New York but offices soon followed in London and Paris. They are now recognised as one of the best-known photo agencies, whose members include many of the world's leading photographers.
The Body Oberserved will be curated by Monserrat Pis Marcos, curator at the Sainsbury Centre, in collaboration with Emily Graham, Cultural Commissions & Partnerships at Magnum Photos.

Exhibition Details:
THE BODY OBSERVED: MAGNUM PHOTOS
23 March – 30 June 2019
Sainsbury Centre for Visual Arts
University of East Anglia
Norwich, Norfolk
NR4 7TJ
£13 | £12 concessions
50% off for under 18s, full-time students and Art Fund Members
FREE for Sainsbury Centre Members, UEA and NUA Student Members.
IMAGES courtesy of Magnum Photos
1. NYC53377 CANADA. 2004. Two towels © Alec Soth/Magnum Photos

2. LON109360 USA. Los Angeles. American actress Joan CRAWFORD. 1959 © Eve Arnold/Magnum Photos

3. NN11530563 FRANCE. Paris. November 2, 2017. Agata © Bieke Depoorter/Magnum Photos

4. PAR39240 Spanish painter Salvador DALI. "Dali Atomicus." 1948 © Philippe Halsman/Magnum Photos
We are excited to be working with cinematographer Afshin Shahidi on his first photography exhibition, launching this February, and documenting his intimate working relationship with the artist Prince. Our expert production team worked closely with Shahidi, producing a selection of his works as Fine Art Giclée prints on Hahnemühle Fine Art Baryta paper, and finished with Bespoke Wooden Frames.
The exhibition will feature rare and intimate images of Prince, primarily drawn from Shahidi's recently published photo book, Prince: A Private View, which includes a foreword by Beyoncé Knowles-Carter. Illustrating Prince's exceptional talent through his strenuous work ethic, enigmatic persona, unique charm, and sexual charisma, the limited edition prints on view convey the power of the late musician's flamboyant and multi-instrumental performances. The qualities that made Prince a worldwide phenomenon are captured in striking still reflections by his colleague and friend, Afshin Shahidi.
Iranian-born Shahidi collaborated with Prince longer than almost any other photographer. He met the musician in their shared hometown of Minneapolis back in 1993, at Prince's renowned recording studio, lyrically portrayed by the artist as "there aren't any rules in Paisley Park". Initially working as a cinematographer, Shahidi's passion for creating still images was obvious to Prince, who, soon after, invited him to photograph his then band, the New Power Generation.
After a trial period, Prince asked Shahidi to become his official Stills Photographer. In this position, Shahidi captured Prince on stage and at play, both in highly styled settings and candid situations. He travelled with Prince from Panama, to Morocco, to London and beyond. The relationship between the two transitioned from professional peers to duelling conversationalists, to trusted companions. Ultimately, Shahidi's unique access to the notoriously inaccessible Prince gave him the opportunity to create indelible images of the icon.
Shahidi hopes his photographs will give the public a renewed appreciation for the late performer and recalls of Prince:
"He became my mentor, business partner, travel companion, collaborator, and – most important – my friend. He took it upon himself to encourage me to see the world as a place of opportunities, not limitations. He taught by example. I knew I had to grow as a photographer, both technically and artistically – I had no choice. My subject was, unequivocally, the most talented musician of our time."
Exhibition details:
27th February – 9th March 2019
Herrick Gallery
93 Piccadilly
London, W1J 7NQ
Opening times: 27th-28th February 11am-5pm / 1st-8th March 11am-7pm (Sundays 12-5pm)
Free Entry
ALL IMAGES © Afshin Shahidi
Back for its fourth year the Made in Arts London X Metro Mentorship Programme is now open for applications!
Running from March 2019 – February 2020, together with MiAL, we are offering one final year student studying at University of Arts London tailored support and advice during the last crucial few months study, degree show and then the vitally important first few months as a graduate.
Alongside this mentorship, the winning student will also become a MiAL artist, with the opportunity to showcase their work online as well as MiAL events and exhibitions throughout the year.
THE WINNER WILL RECIEVE:
– A twelve month bespoke mentorship
– £1000 credit to be used against Metro Imaging in-house services
– One to one mentorship including PPD; technical advice; networking opportunities and industry insight
– In-lab tutorials experience with various production departments
– Portfolio and practice reviews and advice
– Curatorial advice in shaping their final degree show
– Opportunities to be involved in Metro instigated exhibitions and lectures
– Introductions to Metro Imaging industry partners
– MiAL Artist membership with a two year contract
Previous winners have been Nathaniel White, Frederic Anderson and Giulia Cacciuttolo. So, if you are a final year student at MiAL and interested in applying for this opportunity then see all info over on the MiAL blog. 
Deadline for applications is Midnight Sunday 24th February 2019
We are proud to be partnering with Accumulate charity this year on an interactive event including professional folio reviews, professional development advice and pro-lab guided tours.
This event offers you a unique opportunity to have your photographic work reviewed by established photographers, influencers and curators from within the industry. Your creative work will be constructively critiqued by industry professionals and will be included in peer-review groups facilitated by Metro Imaging. Attendees will also have the chance to take part in guided pro-lab tours, where they learn about preparing image files for professional printing as well as learn about different paper profiles and printed portfolio presentation
Your ticket guarantees you four individual portfolio review sessions with each acclaimed reviewer and the money raised will be paid forward to fund Accumulate participants (young, homeless people) to have their creative work reviewed and then showcased at an exhibition at Autograph– the Accumulate charity helps young people affected by homelessness to reach their potential through their participation in creative workshops, education, and activities. Furthermore, participants will receive a discount code worth 20% off your next self-service transaction at Metro Imaging. All money raised from tickets goes straight in to Accumulate Charity.
The industry reviewers include;
Dan Gaba – Photographer, Photo Editor for The @WSJ & @WSJPhotos in London/EMEA, formerly with The @NYT. Support you with editing your work.
Bindi Vora – Artist. Curatorial Project Manager @autographabp .Visiting Lecturer, Westminster University. Support you with curating and exhibiting your work.
Steve Macleod – Professor in photography, photographer artist and mentor @metroimaging. Support you with technical aspects of your work & practise.
Kate O'Neill – Founder @TheOGC, Marketing @metroimaging, and mentor. Support you with professional development & marketing your work.
WHO: Professional, amateur and students practising photographic and visual artists are all welcome
WHAT: x4 Professional folio reviews, peer critique sessions, professional development advice, printing and exhibition tips, pro-lab guided tours.
WHEN: Friday 15th March, 10:00 – 14:00
WHERE: Metro Imaging, 32 Great Sutton St, London EC1V 0NB
HOW: Limited spaces available, don't miss out – BOOK YOUR SPACE HERE!
Want to be part of a dynamic, creative team working with acclaimed artists and international galleries on a daily basis?
We are looking for an outgoing, ambitious individual with a background in sales and customer care, and with a strong knowledge of the visual arts industry. The ideal candidate will be well organised, punctual, outgoing, and not afraid to use their initiative. Attention to detail is also a must, plus a natural flair for customer relationships . Knowledge of Photographic and Fine Art production is a bonus, but training will be provided.
Desired skill-set:
— Ability to identify potential new clients and to build up long term connections
— Capability to generate leads, turning them into sales
— Comprehensive understanding of utilising various social media platforms as a sales/marketing tool
— Data and Sales reporting (as they will be expected on a monthly basis)
— You must be eager to commit to this position – even though it will be fixed hours – as you will be expected to attend client exhibitions and networking events, as well as assisting with our own internal events, and any additional ad-hoc duties
Required experience:
— Sales and Client Care: 2 years
— Photography/ Creative Industry: 2 years
— Networking: 2 years
Role Info:
— Job Type: Full-time (Mon – Fri 9am-6pm)
— Art / Sales / Social Media / Networking
— Salary: £22,500 + Based on experience
— Job Location: Central London
— Deadline: Feb 18th 2019, 11.59pm
Your Application:
— An up to date CV (ideally as a .pdf file)
— A cover letter describing why you think you're the right fit for the role, including a case study of how you supported a client, providing top customer care in a previous role (x1 A4 page max)
— Please title your email 'New Business & Client Care'
— APPLY HERE!
Interviews will start at the end of February:
— Round 1: Phone interview with Marketing & Sales Management so we can get an idea of your phone manner and personality
— Round 2: Face to face interview at Metro Imaging with Senior Management
— Round 3: Two hour trial at Metro Imaging with Marketing & Sales Management to complete a set of tasks
We look forward to hearing from you!
This February Free Range Awards return to The Truman Brewery with winning art and photography graduates presenting new work in a selection of diverse solo exhibitions. Three winners were hand-picked from the annual Free Range graduate shows, which showcase a new generation of cutting-edge talent from across the UK, to create new work that will go on display in their own solo exhibitions.
Continuing our dynamic relationship with the emerging-talent platform, we are excited to work with the individual artists and produce work for these engaging exhibitions.
EXHIBITING ARTISTS:
Cole Flynn Quirke – A Bird Flies Backwards: A photographer from Brighton whose photographic process is primarily autobiographical. Cole experiments with moving image, sound and collage in his work, and prints all photographs by hand. Cole's work was recently featured in the show Many & Beautiful Things at Newlyn Art Gallery & The Exchange in Penzance. For his new exhibition, A Bird Flies Backwards, Cole has chosen to explore and document his own views on existence – looking at life, death and understanding change following his grandmother's death.
Polly Evans – No Man Is an Island: The London-based artist creates installations that use video, sound and spoken word to engage viewers with political and social problems in modern day Britain. No Man Is an Island is Polly's first solo exhibition. It looks at the current economic and social landscape of our country and the detrimental impact the future may have on younger generations. Like the poem, No Man Is an Island by John Donne, it explores ideas of division and separation and asks the question; What is the future for a nation so divided?
Jasper Pedyo – Lost in the Sauce: The Zimbabwe-born fine artist was chosen by judges for his three large, painted constructions entitled Kisses, Hugs and Jo'Burg. Following his success at Free Range 2018, Jasper opened his first solo show The Expanded Field at 108 Fine Art, Harrogate, which was featured as the Financial Times' Critics' Choice. For his new exhibition, Lost in the Sauce, Jasper aims to blur the line between sculpture and painting – altering the shape of the canvas frame and presenting bold and contrasting colours that are free from brushstrokes and recognisable imagery
THE AWARDS:
The FR Awards were launched in 2016 to continue the support of emerging artists and celebrate talent. The FR Awards provide winners with funding towards their own solo exhibitions at the Truman Brewery in February, alongside mentorship and press coverage in the lead up to their shows. Each year, three artists are selected from the two Photography and Fine Art weeks at the Free Range graduate shows by panels of industry experts and professionals within the arts, including curators, artists, journalists and gallerists.
EXHIBITION INFO: 
7th – 14th February 2019.  4, 8 and 11 Dray Walk, The Truman Brewery, Brick Lane, London E1 6QR. PV Thurs 7 Feb RSVP (free entry)
IMAGES © A Bird Flies Backwards by Cole Flynn Quirke, No Man Is an Island by Polly Evans, and Lost In The Sauce by Jasper Pedyo
Over the past six months Metro has been working closely with SATORI to offer visual artists the chance to access a tailored Mentorship Award, which will support them with professional development, career direction, and industry insight as well as a chance to have their work published.
The twelve-month programme is designed around the needs of the individual and includes creative and conceptual advice, professional and business development, marketing identity and PR, technical experience, plus networking introductions and opportunities.
Since applications closed in December 2018 the SATORI team have been reviewing each entry to the award in detail to create a shortlist ahead of a the final selection on Friday 11th Jan 2019. The selection panel includes members from SATORI, Metro Imaging and external industry influencers.
Below are the five shortlisted visual artists for this years SATORI x Metro Mentorship Award:
ARTIST SHORTLIST
Congratulations to all who have been shortlisted, we look forward to announcing the winner via SATORI and Metro Imaging website and social media platforms later on Friday 18th Jan.
This winter Somerset House presents Hanna Moon & Joyce Ng: English As A Second Language, a new photography exhibition celebrating the work of two of the most exciting photographers working in fashion today. This combined exhibition celebrates the vitality and importance of fresh perspectives within fashion photography in our globalised and interconnected world.
Employing an otherworldly and playful approach to their practice, Hanna Moon and Joyce Ng incorporate cultural signifiers, set design, and fashion to present their unique take on Western aesthetics and fashion ideals. Bringing distinct Asian perspectives to their work, they challenge the concept of 'otherness' and reflect upon the power fashion photography holds in shaping our perceptions of beauty, style, and taste.
Curated by Shonagh Marshall, the exhibition explores the artists' feelings of being 'lost in translation', a feeling which; as artists living in a foreign city, navigating different languages and shifting landscapes, informs Moon and Ng's search for capturing beauty in the often overlooked and unseen narratives in our everyday lives.
For 
English as a Second Language
, Metro Imaging has worked with the artists and curators to produce a selection of the works as
archival digital C-type prints
 which were then
mounted to aluminium
. Moon and Ng have created two new series of photography works, responding directly to the historical setting of Somerset House.
The exhibition also invites you to explore works from Moon and Ng's fashion photography archive over the past four years, featuring work from leading publications such as Dazed, i-D, Modern Weekly, Centrefold, Re-Edition, M Le Magazine du Monde, Modern Matter, 1 Granary and David Casavant Archive Book.
IMAGE ©
1 Joyce Ng, In Her Five Elements: Karen Guan Yin is just catching a breath under The Mountain of Five Fingers, 2018
2 Hanna Moon: River for 'Boom Boom', Re-edition Issue 2, 2015
3 Joyce Ng, Face Value for Numero China, 2018
This January 1 GRANARY will launch VOID at the British Fashion Council showspace during London Fashion Week Mens 2019. Metro Imaging was excited to work with the collective to produce archival digital c-type prints all mounted to Kapa board ahead of this highly anticipated exhibition.
Established in 2012,1 Granary is a London-based, global network aimed at young fashion designers and creatives. Through its print magazine, website, educational workshops and events, the platform unites and connects the prominent with the promising.
Uniting the boundless imagination of the emerging and creative expertise of the established, 1 Granary's VOID invited prominent creative directors and their teams to interpret the work of six independent designers. The photography series and video installations, to be exhibited at the BFC showspace during London Fashion Week Men's, aim to celebrate alternative ways of fashion promotion and invite the industry to rethink its hierarchical structures.
VOID welcomed three new designers (Sinead O'Dwyer, 419 Collective and Rebecca Jeffs), alongside three designers from the previous edition (Charlotte Knowles, Chopova Lowena and Gabriele Skucas). In addition to being exhibited at the BFC showspace, the editorials are featured in uniquely designed zines, which will be bound and released in an exclusive VOID | vol.1 publication, available for purchase on site.
The collective exhibition runs from 5–6 January (Opening 5 January at 8:30) at BFC showspace, Truman Brewery, F Block G4 entrance, Ely's Yard, 15 Hanbury Street, London E1 6QR. RSVP to team@1granary.com
© Image by Harley Weir
Recently Sølve Sundsbø's work – as curated by Alessia Glaviano and Michael Van Horne – was exhibited as part of Milan's Photo Vogue festival.
Staged in the evocative galleries of the Prince's Apartment at Palazzo Reale, Beyond the Still Image is the first museum exhibition to explore the unique vision of celebrated fashion photographer and filmmaker, Sølve Sundsbø. An immersive sequence of iconic and previously unseen photographs, videos and site-specific installations invites viewers to deepen their understanding of Sundsbø's distinctive practice; one that is defined by cutting-edge technology and bold challenges to the two-dimensional nature of photography.
Metro's technicians worked closely with Sundsbø Studios to produce a selection of images on Supergloss as well as true Black and white fibre prints to be included in this inspirational exhibition.
You can read more about Sølve Sundsbø and this iconic exhibition "Beyond the still image" here
IMG  © Sølve Sundsbø. 
This summer Hospital Rooms launched a new project at Bluebell Lodge, an inpatient mental health rehabilitation unit for men. Part of Central & North West London NHS Foundation Trust, Bluebell Lodge provides long-term care and support for people who have complex mental health needs, which in many cases previous placements have been unable to meet. The average stay of residents is between 6 and 18 months, during which time they are supported to develop the necessary skills for independent living – both practical and in relation to personal mental health management and well-being.
Six artists –Rachael Champion, Tim A Shaw, Mark Titchner, Steve Macleod, Bob and Roberta Smith and Anna Barriball– were commissioned to make highly inventive, compelling and NHS compliant artistic environments for the unit, in partnership with mental health service users, carers and mental health professionals.
Landscape photographer, creative director at Metro Imaging and art educator Steve Macleod is no stranger to Hospital Rooms. Having worked with the art organisation on their very first project at Phoenix Unit psychiatric rehab in Springfield University Hospital,  Steve has since produced work for the organisation in a manner of forms.
Steve Macleod spent time wandering around a local meadow photographing plant shadows to create this unique image, which is the basis for both his Bluebell Lodge artworks. His artworks for the Gym and the stairwell were both influenced by a cyanotype workshop he led for residents on a baking hot summer's day back in July. Cyanotype is a camera-less photographic printing process that produces a cyan-blue print and is made using a surface treated with photosensitive chemicals which is then exposed to light.
In addition, he has created a limited edition print of his serene installation at Bluebell Lodge. The print will be available at Hospital rooms exhibition on Wednesday 5th December, 6-8pm, at Unit1 Gallery and on their website from the 6th Dec.
You can read more about the cyanotype process, find out about Steve's workshop and see more of the work created by participants in an earlier blog post: Bluebell Blueprints – chemistry, sunlight and creativity.
On 14 December 1918 women in the United Kingdom voted for the first time, and in the same year the first female MP was elected. Launching 14 December 2018, 209 Women marks that significant moment in history, whilst also highlighting the ongoing need for further gender equality across society and politics. Metro Imaging is delighted to be collaborating with this landmark project and its dedicated photographers.
As an all-female photography initiative, portraits of all 209 women MPs have been exclusively shot by women artists. These images will be displayed in a free, public exhibition opening on 14 December — 100 years to the day that the first women cast their votes in the 1918 UK general election. The photographs will be displayed firstly at Portcullis House, Houses of Parliament, before travelling North to Open Eye Gallery in Liverpool in the New Year.
Metro is honoured to support and work with the team- including Hilary Wood , Cheryl Newman, Tracy Marshall and Lisa Tse – behind 209 Women in producing high-end, archival prints, expertly finished in Box Frames for their inaugural exhibition.
"The idea for the exhibition came from my own experiences of gender inequality. I've worked mainly in male-dominated fields for the past 18 years. I've got two daughters and I wanted to be part of changing things so that they grow up in a society that is more gender equal. Since 1918, 4,503 men have been elected to the UK parliament – compared to just 491 women. On the centenary year of women's suffrage, I wanted to celebrate how far we've come, but I also want to bring awareness to continued gender inequality by championing the visibility of women in power. This exhibition will bring visibility to those women that are part of making the fundamental changes to women's equality." – Hilary Wood, Founder and Curator.
Although the Suffrage Movement achieved the first votes for women, there is still a long way to go to cement a culture of true gender equality across all spheres of society in the UK, particularly in positions of power. Women MPs only form 32% of the House of Commons.
The project began as a voluntary endeavour, but the team has been working closely with Open Eye Gallery to secure fees for the artists. The initial crowdfunder to raise support for the artists ran over summer 2018, and now the team is welcoming individual exhibition patrons, limited to 209 places.
Exhibition details:
The exhibition will hang in Portcullis House, Westminster from 14th December 2018 until February 2019. You can book your tickets for the free exhibition here.
From February 2019 it will travel to Open Eye Gallery, to be exhibited in partnership with Culture Liverpool.
IMAGES ©
1. Tulip Siddiq MP, photographed by Jillian Edelstein
2. Exhibition installation shot at Portcullis House, taken from Alison Thewliss verified Twitter account @alisonthewliss
3. Exhibition installation shot at Portcullis House, taken from Alejandra Carles Tolra verified Twitter account @acarlestolra
We've listed all our print, processing and framing deadlines below for you to use as a handy guide this Festive Season. And, for those of you last minute Christmas shoppers – don't worry, we have plenty of Metro Imaging Gift Vouchers and film stocked in our front of house right up until Friday 21st December
CHRISTMAS DEADLINE DATES FOR ORDERS:
Bespoke Service appointments:  Tue 18th Dec
Bespoke Service C-type (Matt, Gloss, Velvet under 40″x30″ only): Wed 19th Dec
Bespoke Service B&W (+ Duratrans, metallic, etc): Tue 18th Dec
Bespoke Service Giclée: Tues 18th Dec
Bespoke Service Mounting: Mon 10th Dec (Times may vary for MDF and reverse perspex)
Bespoke Service Framing: Wed 5th Dec (this is due to a high volume of current orders)
Self-Service Orders C-type (Matt, Gloss, Velvet under 40″x30″ only): 2 pm Thurs 20th Dec
Self-service orders B&W (+Duratrans, Metallic, C-type over 40″x30″, etc):  Wed 19th Dec
Self-service orders Giclée:  Tues 18th December
Self-Service Mounting(with print order): Fri 10th Dec (Times may vary for MDF and reverse perspex)
Self-Service Framing (with print order): Mon 3rd Dec (this is due to a high volume of current orders)
Film processing: 10 am Wed 19th Dec
Film scanning:  Thurs 19th December
Retouch Appointments: Thurs 20th December
CHRISTMAS LAST POST DATES
International Last Posting Date Christmas 2018
ROYAL MAIL UK SERVICES
Thursday 20th December
1st Class Royal Mail Signed For® 1st Class
21st December
Royal Mail Special Delivery Guaranteed®
ROYAL MAIL INTERNATIONAL SIGNED FOR
4th December
Africa, Middle East
7th December
Cyprus, Malta, Asia, Far East, Eastern Europe (except Poland, Czech Republic and Slovakia)
8th December
Caribbean, Central and South America
10th December
Greece, Turkey, Australia, New Zealand
14th December
Canada, Czech Republic, Italy, Poland and USA
15th December
Finland, Sweden
17th December
Austria, Denmark, Germany, Iceland, Netherlands, Norway, Portugal, Slovakia, Spain, Switzerland
18th December
Belgium, France, Ireland, Luxembourg
Bikes/Vans will be operating a normal service up until 21st December.
Overnight UK will be operating a normal service up until the 20th December (Last deliveries to arrive 21st December)
International Couriers – Please contact Despatch
This month our Expert Tip comes from Ciaran Woolcombe, our Front of House & Self-Service Coordinator. Here, he shares his advice on preparing your digital files for production and how to achieve maximum quality for your prints.
Start with DPI
In printing, DPI (dots per inch) refers to the output resolution of a printer or imagesetter. At Metro, our machines run at a variety of DPIs from 200 to 400 (and some random numbers in between), we usually recommend for you to work at 300 dpi as it tends to be the best all round for art and photographic printing, then we will sort the rest!
Preparing Files for Print
The best way to get exact sizes and maintaining control over borders is to set your files up using an industry recognised image editing software. Ideally, something like Photoshop. However, there are plenty of others to choose from and should work in a fairly similar manner.
This guide will be using Photoshop, to size the same image in 3 different ways:
– to as close to 10″ x 8″ without cropping
– to exactly 10″ x 8″ without borders
– to image within a 10″ x 8'' canvas with borders
Guide 1: Image, No Border, No cropping (by pro)
First things first, once you have your file opened, you will want to size it by going to 'Image>image size'
This will bring up an 'Image Size' box – make sure you have resample ticked, the DPI set to 300, and on the longest edge type in 10. Photoshop will then do the smaller edge automatically, in this case, the closest to a 10″ x 8″ we can get without cropping would be 10″ x 6.532″. (Some images will be different shapes, depending on the format of the camera it is shot on).
Also, make sure the resolution is set to Pixels/ Inch as opposed to Pixels/ Centimetre.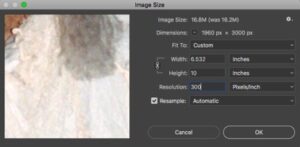 Guide 2: Image, No Border, Exactly 10″ x 8″ using crop tool
Once your image is opened, you will want to select your crop tool.
A box appears in the drop down box you will want to select W x H x Resolution, this will allow you to input the exact size and print dpi that you require.

I have selected 10 x 8 at 300dpi, always double check you have selected px/in as opposed to px/cm.
You will then be able to crop the image as desired and it will save it down as the selected dimensions, you can check it has worked by going to:
Image>Image size
The file has now been cropped to exactly 10 x 8 at 300dpi.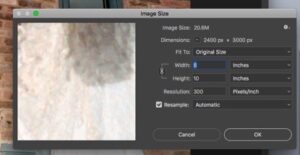 Image Set-up On A 10″x 8″ Canvas with Borders
Once the image is opened, you will want to go to:
Image>image size
Here you will want to make your image size smaller than the desired final size, which in this example will be 10″ x 8″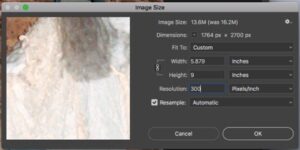 This image Pros out to 9″ x 5.879''
Hit okay and then you will want to go to:
Image> Canvas size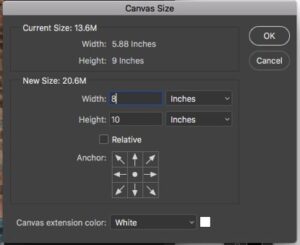 As my required final size will be 10″ x 8″ I have imputed this, hit okay and Photoshop will automatically centre the image on a 10″ x 8'' piece of paper.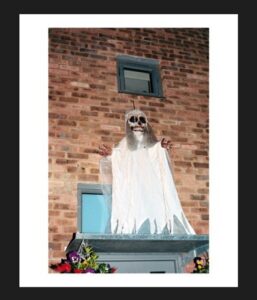 You can then check everything has gone smoothly by going back to image size: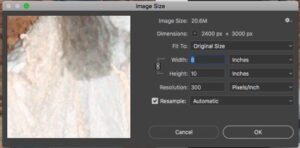 Checking The Image Looks Good At Size
One of the key things to check is whether or not the file is holding up at the size you require, the best way to check this is using the ruler tool in Photoshop.
To make sure the rulers are turned on you will need to go to View > Rulers, and a ruler will then appear around the image, if you right click this you can then select your preferred measurement, in this case, good old-fashioned inches.
If you then zoom into the image and get the ruler to represent an inch, you are then viewing your image on screen at print size, giving you a good indication of how it's going to turn out when printed.

Or you can zoom in to 33.3%

Out Put and Saving File
Before saving you will want to make sure your image is saved in the correct colour space, (although we have most of our c-type paper profiles available for download if you are confident in profiling), I would recommend submitting your files to us in Adobe RGB (1998) as we will profile them before they go to print.
To do this you will need to go to Edit > Convert to Profile and from the drop down box select Adobe RGB (1998)

After you have done this you will need to save your file down ideally as a .TIFF file, do this by clicking File> Save as in the format box select TIFF and hit save in your desired location.
The file will now be ready for upload to our online self-service


Screen
Ideally, for the closest translation from screen to print, you will be working on a high quality calibrated monitor such as an Eizo like we use here in the lab. This is because most backlit screens do not translate well to print, this is especially the case, with super glossy retina Mac screens which tend to make everything look much brighter and way more saturated than they are –which is great for films, but not so great for printing–  this can make it difficult to predict how an image will come out when printed.
If you are really unsure we do offer a Self-Service Premier Service (which is certainly a lot cheaper than a calibrated screen!). Within this level of service, our professional technicians will check your files to make sure they are looking good and will make a few adjustments if necessary, to get the best quality print as possible.
You can order via our Self-Service here or read more about preparing your files with  Controlling Your Physical Environment.
Metro was delighted to work with Maisie Cousins to produce archival C-Type Prints ahead her solo show selected to launch Elephant Magazine's first physical art space, Elephant West.
Known for her bright, colourful and playful style, this newly commissioned series will explore the joy and ceremony of eating.
"Dipping Sauce" will reveal large scale, hyper-saturated macro imagery of food, plants and nostalgic objects related to eating, to create a truly immersive environment. Her work carries complex layers of messages, often placing the audience uncomfortably up-close to her work and treading a carefully balanced line between the beautiful and the disgusting.
"I'm interested in our current obsession with food in the western world. Everyone takes pictures, whether their food is delicious or naughty, horrible or bleak. I spend a lot of time on Instagram looking a people's depressing dinners – I find something honest and funny about them. This project is an amalgamation of all the things that I find charming and funny about food." says Cousins of the work that will be exhibited.
This will be the first time that Maisie's work has been shown at such a grand scale. With some images enlarged to create wallpaper-style backdrops for smaller images on lightboxes, and some displayed at five times their usual size, the installation immerses the audience into the sticky, sweet and gunky world of Maisie's visual playground. At a time when consumers are beginning to question the provenance of the food they buy, and at the same time are able to procure almost anything they want via enormous global supply chain networks, Maisie confronts us with the reality of our gluttony and desire. At once seductive and repulsive, these heavily charged images both celebrate and question the human relationship to food, bringing in elements of childhood nostalgia and sensorial references to emphasise the link between memory and eating. It's not always clear what the elements of the images are, and Maisie uses this ambiguity to seduce the viewer, creating moments of surprise, delight and horror in equal measure.
Becca Pelly-Fry, Head Curator at Elephant West, believes Cousins to be the perfect collaborator for the opening of Elephant West, commenting:
"Maisie was brought up in West London, and it felt important for our first project to be connected to the local area, showcasing the inherent creativity of West London. Maisie is at a critical point in her career; this opening commission for Elephant West captures her on the point of really blossoming as an artist. "
'Dipping Sauce' will be interspersed with talks, workshops and other special events and will run from 10 November to 2 December 2018.
Depending on the size of your print and your choice of substrate, you may have the option of choosing between either split-battens or a sub-frame to hang your final piece. Once over a metre square, mounted prints will require the additional support of an aluminium sub-frame. It is important to note that fixings can only be applied to inflexible substrates, such as Dibond or Perspex. Materials such as Foamex and Kapa are not sturdy enough to attach fixings, as any flex will cause them to pop off. For these lighter materials, we often suggest Velcro for hanging. Sub-frames will also often be fitted within large-scale classic frames; hidden from view, but providing the frame with additional support and longevity.
Aluminium Sub-Frame
Once over a metre square, it is imperative to fix your mount with a sub-frame. Sub-frames consist of narrow aluminium strips that frame the reverse of the mount, these are bonded with a pressure-sensitive adhesive and usually allow a small border from the edge of the substrate. These prevent any warping, twisting or bending from happening, keeping the mount rigid: there is consistent support for the whole piece.
As well as this, sub-frames are often the more aesthetic choice, as they sit closer to the wall in comparison with battens, as well as being slightly subtler when viewed from the side. They also provide a way of allowing the mount to hang on a normal picture hook, but can also be hung from a batten, offering multiple hanging options.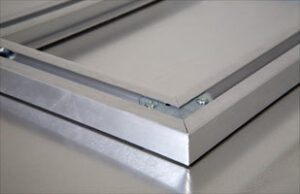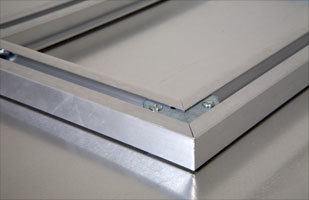 Split-Battens
Photo mounting with modern materials, such as aluminium and Dibond have become popular in recent years for their rigid, frameless sheer look and feel. The image appears to be floating and is due to their fixings. Split-battens are a set of wooden strips cut at an angle and designed to lock together. One is permanently fixed to the mount, whilst the other is for fixing to your wall. When using battens, the substrate can be up to a maximum size of 40×30 inches. Once over a metre square, there is not enough support for the mount using this method. Split-battens are a great way of achieving the floating aesthetic, but slightly more economical than a sub-frame due to the materials used.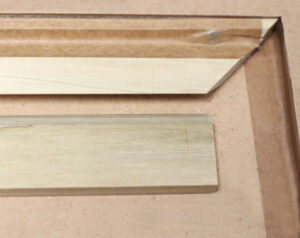 At Metro, we have a variety of materials and combinations available. We're always interested in hearing back and aim to provide you with the optimum quality for your ideal finished product. For any further information, feel free to call us at 020 7865 0000 or email at enquiries@metroimaging.co.uk
Sidewalk Photos, a street photography Pop-Up, will be showcasing a curated body of work from 12 highly acclaimed and recognised street photographers at 3 Street Gallery.
Consisting of 60 prints, the featured artists are Brandon Wong, Craig Whitehead, Ed Robertson, Harry W. Edmonds, Joshua K. Jackson, Mavis CW, Mo Barzegar, Sean Tucker, Sean Welch, Stuart Paton, Toby Ziff, Valerie Six.
Metro has worked closely with all artists, and organisers Joshua K. Jackson & Mavis CW, to produce their collection exhibition on Fuji digital c-type matt papers and finished in classic contemporary black wooden frames.'
The work has been commissioned by a corporate client of Sidewalk Photos, with the images being installed after the Pop-Up as a permanent office art project for their Carnaby Street headquarters.
The Pop-Up aims to promote street photography as its main objective, providing exposure for the featured artists and giving members of the public the rare opportunity to see a highly curated body of work from some of the most popular street photographers on social media today.
W H A T
A Street Photography pop-up exhibition
W H E R E
3 Carnaby Street , London W1F 9PB
W H E N
18 – 25 July, 10am – 7pm
Create your printed portrait at our usual prices and we will provide packaging, labelling and delivery to ensure a smooth Round II application process and peace of mind.  See our full info below…
BESPOKE PRINTING OFFER
Come in to our Central London lab with your file and you can spend 15 minutes with one of our expert technicians. We'll tweak your image until you're perfectly happy, and print the file to your required size. Alternatively send your file remotely and we'll ensure to print them optimally
Choose either Digital C-type, Fine Art Giclée or Genuine Black & White prints and we will carefully set it in a protective sleeve, label it for you and deliver it to the address specified for entries.
BESPOKE PREMIER / STANDARD PRINTS: These include Digital C-type, Giclée, Black & White. Prints "must be no larger than 1015 x 760mm and 20 kilos in weight (there are no limitations on how small a work can be).The image may be smaller than the paper size." (See all Taylor Wessing Photography Portrait Prize 2018 T&C's HERE).
FILE DEADLINE: last day and time of print operator appointments or to send files will be Tuesday 10th July 2018 12pm
ORDERING: For ordering via contact our production team here by to call us on 020 7865 0000 or email enquiries@metroimaging.co.uk.
DELIVERY: We will then Sleeve, label and deliver directly to the London judging venue for July 13th for an added £10 +VAT
BESPOKE PRINTING: More info on Bespoke (Premier and Standard) Service can be found here
TURNAROUND TIMES: Please be aware of ALL our turnaround times before placing your order on either the Bespoke or Self-Service options.
LABEL: Please make sure all your label information is correct to ensure a smooth Round 2 application process.
RETURN PRINTS: We cannot return any prints to you after they have been submitted for entry. Please contact NPG directly for more info on collecting your work.
How will women be remembered over the past 100 years? What have they achieved in the fields of Sport, Science, Politics, the Arts and Education? Who were these women and what did they look like?
Renowned photographer Anita Corbin aims to answer these questions with her symbolic project 'First Women', exhibiting at Royal College of Art this summer.
This considerable body of work comprises a unique collection of 100 portraits capturing women in the UK who were "first" in their field of achievement. The portraits by Anita provide inspiration and insight for a new generation of women seeking an understanding of their own roles in a rapidly changing world in which equality is still an issue. The full collection is finally being revealed this year to mark 100 years of women's suffrage.
After working with Metro on her 2016 exhibition Visible Girls, Anita was keen to seek advice on the First Women project from Metro's Director Steve Macleod and Marketing Manager, Kate O'Neill.  Anita comments "Their (Metro's) dedicated team of experts have a huge range of industry experience and they clearly love what they do, which is why the quality is so good – I can totally rely on them".
"From our first project with Anita working on Visible Girls to this landmark body of '100 First Women', our partnership has progressed and grown into a collaboration beyond what we could have ever hoped for. We look forward to creating many more projects with Anita and adding to the Metro Imaging legacy of high quality and close collaboration with our clients." – Kate O'Neill says of the ongoing partnership with Anita and First Women.
Steve Macleod adds  "This project embodies Anita's huge dedication and determination to her craft in collating these portraits which are emblematic of the commitment to her practise or process."
Working closely with Anita over the last year, our experienced technicians have helped to produce this landmark exhibition via archival digital c-type matt prints, custom mounting and bespoke framing.
First Women, The Collection, is about women's achievements, and one woman's exploration through the camera lens that endeavours to answer the question: How will women be remembered over the past 100 years? What have they achieved in the fields of Sport, Science, Politics, the Arts and Education? And who were these remarkable "first" women, what did they look like?
The portraits are multi-tiered; they are an exploration of the relationship between the photographer and the sitter as well as the relationship the woman has with the environment or background in which she is photographed. Each has been carefully chosen by Anita and her subject to reflect the field of achievement in which the woman has excelled.
First Women is the project that Anita has waited all her life to create. Her passion was born out of work she began in the early eighties – her Visible Girls portfolio was symbolic of women's newfound freedom to be whoever they wanted to be – and fired by years spent working as a top female photographer for The Sunday Times and The Observer when she was often sent to cover "human interest" stories involving women.
All this experience has culminated in Anita's vision – the creation of a legacy for future generations of women to enable them to understand and appreciate the achievements of their forebears – and perhaps even to laugh incredulously that once upon a time women were regarded as second-class citizens without a vote.
The exhibition launches this July at the Royal College of Art (info below) and you can get involved and support this remarkable project here!
The exhibition of the full 100 portraits shows at the Dyson Gallery, Royal College of Art, Riverside, 1 Hester Road London SW11 4AN 20th July until 22nd August.
Every day of the week 12-5pm. Free Entry.
IMG © Anita Corbin / First Women
1. Kelly Gallagher, First Woman to win British Winter Paralympic gold
2. Nicola Adams MBE, First Woman win British Olympic and European Games boxing gold
3. Suzi Quatro, First Woman to play bass in and front a Glam Rock Band
4. Rev Rose Hudson Wilkin, First Woman to be made the Speaker's Chaplain
Join us on Wednesday June 20th for an afternoon of
Rediscovered Photographs at Calvert 22 Foundation.
WHAT?
Print swap, exhibition tour, and portfolio review with The Calvert Journal and Metro Imaging.
We'll begin with a curator's tour of the exhibition Family Values: Polish Photography Now, the first major exhibition dedicated to Polish photography in the UK, which amplifies themes of identity, home and family in the context of social and political change.
The tour will be followed by a print swap introduced by Kate O'Neill of Metro Imaging. The print swap's theme is "Rediscovered Photographs", inspired by the work of the photographers in the Family Values exhibition.
A group career review session with award winning photographer Owen Harvey and Kate O'Neill, Marketing and Partnerships Manager at Metro Imaging, will follow.
Finally, you'll have the chance to participate in one-on-one portfolio review sessions with editors of The Calvert Journal.
WHEN?
2pm – 5pm Wednesday 20th June 2018.
WHERE?
Calvert 22 Foundation, 22 Calvert Avenue, London E2 7JP
REQUIREMENTS?
Attendees must book a space and bring along one of their own photographic prints that fits the theme "Rediscovered Photographs". It can be an image from their own personal archive of work; one that never made the final cut for a series or project; one that had been forgotten about; a mistake (happy or otherwise) that was kept regardless; or a photograph that otherwise fits the theme. Your photo can be as large or as small as you like, but we recommend prints around 10″ x 8″ or 10″ x 12″ in size.
Your photo can be an already existing print, or you can order one via Metro Imaging Self-Service and receive 20% off any paper and print size. A discount code will be provided to you once you book your place. You can order your prints here.
BOOKING?
Entry is free but there are a limited number of spaces, so be sure to book your place here!
Getty Images Gallery announces Beat Positive, a new exhibition which will bring to life the dawn of hip-hop culture in a series of vibrant photographs available as fine art prints. The exhibition showcases iconic images from British photographers Janette Beckman and David Corio alongside never before seen material from the Michael Ochs, Right On! and Redferns archives.
Now one of the biggest selling musical genres globally, hip-hop began with a much simpler goal: to get people moving. On the evening of August 11, 1973, Clive Campbell, better known as DJ Kool Herc, set up two turntables in the recreation room at 1520 Sedgewick Ave in the Bronx in order to entertain the crowd gathered for his sister Cindy's birthday party. In a completely new technique he called the Merry Go-Round, Herc extended short drum breaks, now known as breakbeats, using two copies of the same records. The crowd went wild, the party went late, and though no one at the time was aware, a new genre was born.
Londoners Janette Beckman and David Corio first discovered hip-hop in 1982 while on assignment for music magazines such as NME, Melody Maker, and The Face. Their portraits of Run DMC, Slick Rick, Salt 'n' Pepa, Whodini, Grandmaster Flash, LL Cool J, Queen Latifah and the Beastie Boys, along with many others, are considered classics of the genre. Their work has been shown internationally at museums and galleries such as the Victoria and Albert Museum, The Museum of the City of New York and Powerhouse Gallery.
Using the four main elements of hip-hop – turntablism, MC'ing, graffiti writing, and breakdancing – as a jumping off point, Getty Images Gallery curator Shawn Waldron worked with the two photographers to create a unique offering of limited edition prints. The show also features never-before-seen historic photographs sourced from Getty Images' extensive archive, including images of a young LL Cool J, a triptych of The Fat Boys filming their 'Jail House Rap' video and the 1984 Hip Hop Jam at London's Southbank, taken from the Michael Ochs, Right On! and Redferns archives respectively.
Working closely with the Getty Images Gallery team, Metro produced both digital black & white fibre prints along with digital c-type matt prints for this new exhibition of vintage work, which is on show now until 4th August 2018.
Images from the exhibition are available for purchase as prints, starting at £75, with global delivery options. The Getty Images Gallery will also be producing a 1980s style fanzine also called Beat Positive that will be available for purchase exclusively through the Gallery.
IMG ©  Getty Images
1. Stetsasonic – The group Stetsasonic poses on a Brooklyn, New York sidewalk, 1988 Photo by Janette Beckman/Getty Images
2. NEW YORK – 1989: (L-R) Rapper Flavor Flav, director Spike Lee and Chuck D of the rap group 'Public Enemy' film a video for their song 'Fight The Power' directed by Spike Lee in 1989 in New York, New York. (Photo by Michael Ochs Archives/Getty Images)
3. American hip hop duo Eric B. (right) and Rakim walking across 14th Street in New York City, circa 1989. (Photo by Michael Ochs Archives/Getty Images)
4. Beastie Boys and Run-DMC performing on stage at the Greek Theatre, Los Angeles, 21st June 1987. (Photo by Michael Ochs Archives/Getty Images)
This month sees 'Tish Murtha: Works 1976 – 1991' exhibited at The Photographers' Gallery, London. This unique exhibition, which charts the remarkable accomplishments of documentary photographer Tish Murtha, also offers a tender and frank perspective on a historic moment of social deprivation and instability in Britain.
In 1976, aged 20, Tish Murtha left Newcastle upon Tyne to study at the influential School of Documentary Photography at Newport College of Art under the guidance of Magnum photographer David Hurn. The earliest series in this show, Newport Pub, dates from this period – where Murtha photographed the realities of everyday life for the regulars of a typical public house, 'The New Found Out' in a deprived area.
Murtha felt a genuine sense of obligation to the communities of her home in the North East and had chosen a course of study which would make her a more effective photographer, one who could highlight the social disadvantages that she herself had suffered.
To honour Murtha's ethos the exhibition, co-curated by Val Williams and Gordon MacDonald, with Karen McQuaid, surveys six major bodies of work; Newport Pub (1976/78); Elswick Kids (1978); Juvenile Jazz Bands (1979); Youth Unemployment (1980); London by Night (1983) and Elswick Revisited (1987 – 1991) using both vintage and contemporary prints. In addition, the exhibition will also include personal letters and ephemeral material from the Tish Murtha Archive.
Metro Imaging have had the privilege of working with Tish's daughter Ella Murtha over the past year, initially digitising part of the archive and then printing for this retrospective show. Ella chose silver gelatin black and white fibre prints to emulate and reference her mother's way of working.
'Tish Murtha: Works 1976 – 1991' will open at The Photographers' Gallery on June 15th alongside Alex Prager: Silver Lake Drive, a mid-career survey of American photographer and filmmaker, Alex Prager.
IMAGES © Tish Murtha Archive, with thanks to Ella Murtha
"Hospital Rooms aims to disrupt the barriers that limit access to art and culture for people using secure and locked mental health services."
We catch-up with founders of Hospital Rooms, Niamh White and Tim Shaw, and discuss their mission to give meaning to visual art in care units.
Can you tell us why you founded Hospital rooms and how it all came about?
We founded Hospital Rooms after a close friend was sectioned under the mental health act and when we visited her, the unit was bleak and clinical. It was not at all conducive to recovery or rejuvenation and we were shocked that this was where she was at a time when she was so vulnerable. Our background is in the arts (Tim is an artist and Niamh is a curator). Together we thought that we could change these spaces by bringing artists into them. We've learned a lot over the last 2 years and we've now developed a really meaningful co-production process where fantastic world class artists work in close collaboration with patients and clinical teams to reimagine what a mental health unit could be. We're also delivering arts workshops in the units to make creative activity more available to patients. Some people are aspiring artists with abundant talents, some are encountering art for the first time and exploring what it can mean for them. We aim to not only improve the environment, but to disrupt the barriers that people face in accessing art and culture and in doing so bring about a sense of social connectedness and inclusion for some of our most vulnerable.
We think that our latest project at Eileen Skellern 1 Psychiatric Intensive Care Unit (PICU) for women at Maudsley Hospital, South London and Maudsley NHS Foundation Trust demonstrated the gold standard of multi disciplinary collaboration from our team, the clinical staff, the artists and our partners. In PICU, the environment is intensively managed to keep patients safe and aid recovery.
We were offered the necessary support to not let that compromise the ambitiousness of an artists vision or scale of work. The staff provided all the correct conditions to support patient engagement and were adventurous in the measures they were willing to take to facilitate artists, whether that meant making extra staff available or leaders encouraging their teams and giving advice.
How do artists get involved and work with Hospital Rooms?
We think very carefully about the artists that we invite to participate in Hospital Rooms projects. In the first instance they must have a level of professional expertise that equips them to deal with all of the regulations and restrictions we face in meeting NHS compliancy around robustness, infection control and ligature risk – this includes not having any framing, glazing, screws, free standing items or canvas. In addition, we need them to have a collaborative aspect to their practice so that they are able to engage with the communities we work with, listen to them, lead sessions with them and interpret their thoughts and ideas in imaginative ways. We also try to reflect the groups we work with for example, if it's a women's ward, we may think is it important to work with majority women artists. In addition, we are keen to work with artists who have used the mental health system or have a connection to it. It is important that that some of the artists are able to draw on personal experience when creating their work.
We are approached regularly by artists who would like to work with us and we're always thrilled to hear from people. At present, our projects take place relatively slowly and so we only commission a certain number per year. As we grow, that will change!
How do you measure the impact Hospital Rooms has on the institutions and organisations you work with?
We have a range of methods to measure the impact of our work and we're constantly working on improving them. We monitor people's experiences before, during and after a project takes place. This is usually with the support of the clinical teams we work with. We've also ventured into creative means of evaluating our work. We've lead collage workshops with images of the ward environment,  artworks and text and asked patients to reflect on their experience through a piece of their own work. We've also used creative methods with staff such as a 'Visual Matrix', which aids conversation and brings about some rich reflections on the project.
You've been working closely with the Metro Imaging team for some of the installations and exhibitions, how do you find the production process and are the environments you work in challenging for installing artworks?
The environments we are working in are some of the most challenging clinical spaces. It took us 18 months to convince the first hospital to work with us because the general belief was that it just couldn't be done. From the very beginning, Metro has worked with offered us amazing support in achieving both museum quality prints that are also suitable for these spaces, being wipe clean, scratch proof and do not need glazing or framing. Many of our other artists have worked in close collaboration with Steve and Simon to meet those goals and we were thrilled with the results they achieved. This was particularly relevant for the work of Anish Kapoor and Tamsin Relly, where all parties undertook numerous tests as they were not willing to compromise on quality for this community. Steve Macleod (Metro Imaging Director) was one of the artists on our first project, and he created a series of beautiful landscapes that were printed on dibond and vinyl. It's inspirational.
What is the next project for you?
We have just met our funding target for a new project at a locked male rehabilitation ward in London.
We've recently received a great deal of press coverage, including a feature on Channel 4 News, and in response we've been inundated with requests from mental health units who wish to work with us. We are upping our game and working on increasing our impact and reach!
Are the artworks from Hospital Rooms projects available to purchase?
Ordinarily the artworks created for Hospital Rooms are specifically made for the units we work in and are not available to purchase. However, we have just released our very first limited edition print by Tamsin Relly, that was printed by Metro. It is a beautifully luscious scene of green forest with vibrant pink flowers, and proceeds from the sale go towards our most urgent upcoming work. These are available to buy through the Hospital Rooms website: www.hospital-rooms.com
How else can people support Hospital Rooms?
The key way that people can support Hospital Rooms is through fundraising. The need for our work is so apparent and our projects reach some of the most vulnerable members of our society. From partnerships with businesses, personal fundraising events, regular donors or sponsored activities, every penny helps us to continue our work to bring brilliant art to those who face the biggest barriers to access it.
Hospital Rooms are in residency on our Instagram gallery all this week (29th May – 3rd June), follow us to see more from this incredible organisation and their wonderful artists.
IMG © Hospital Rooms  / Projects
"Within the vast disaster area, the boundaries between the city and nature had been shattered right in front of my eyes. I was forced to think about the inevitable limitations of photography and how impossible it is to record all of actual reality" – Taisuke Koyama
Metro are excited to be working with Seen Fifteen for Taisuke Koyama solo exhibition, SENSOR CODE  which opens as part of Peckham 24 Festival on Friday 18th May 2018. Working closely with the gallery, our team produced a set of bespoke frames for this unique body of work.
For this new exhibition, Koyama will present abstract photographic works from four recent projects, which employ experimental strategies using digital sensors. The reactions of light onto the sensors in digital cameras and scanners resolve into unique colours and patterns, which in turn create Koyama's own visual language. Releasing abstract photography from its heritage in materiality is an ongoing area of interest for the artist. So too is a paradoxical desire to design installations that become a physical experience.
The works at Seen Fifteen will be presented as large inkjet prints, suspended from the ceiling in a maze of sculptural images for the viewer to journey around. In our contemporary world, where we are completely saturated by a never-ending stream of digitally transmitted images, the artist's intention within the gallery space is to invoke a contradictory sensation. By dominating the room with large-scale prints he aims to force us to feel the images as well as look at them.
Opening Party and Special Events as part of Peckham 24 Festival: Friday 18 May 2018, 6pm-2am Seen Fifteen, B Stairs, The Bussey Building, 133 Copeland Road, London SE15 3SN
IMG © Taisuke Koyama
Metro is delighted to be collaborating with Michael Hoppen Gallery to produce bespoke framing and mounting for Tim Walker's 'The Gully Queens' to be shown at Photo London 2018.
The Gully Queens Jamaica, 2018 – is an exclusive limited edition of 30 signed prints with all proceeds (100%) donated to the Gully Queens Charity
"I found the notion of an aggression towards homosexuality in Jamaica sad and regressive. To me, the Gully Queens are emblematic of this injustice which is what led me to photograph them." – Tim Walker says of this particular work.
Pop by the Michael Hoppen Gallery Stand C1 at Photo London fair to see this beautiful piece on show and chat with their wonderful team.
IMG © Tim Walker
The Gully Queens:
Health, Safety and Housing concerns continue to go unaddressed for a subset of the Homeless & Displaced LGBT persons who reside across Jamaica. Many have resided in the storm drains of the business district known as New Kingston have also repeatedly been displaced by the police and city council. They continue to be engaged in sex work as a means of survival which increases their health risk as higher paying clients often demand unprotected sex. There is also an increase in the use of alcohol and illicit drugs (shown by 85% of respondents who use alcohol and illicit drugs to suppress their depression) which can be sources of vulnerability. 99% of the clientele have indicated that their drug and alcohol use significantly affects their practice of safe sex.
The Gully Queens have both physical and mental scars as evidence of trying to survive on Jamaica's volatile streets. Because they do not conform to gender norms, they have been disowned by family, threatened, stoned, attacked, and even shot. They are repeatedly evicted from spaces where they have sought refuge, and arsonists often set fire to their belongings. They are nomadic, and have in some cases have developed dysfunctional behavior as means of survival, disrupting the broader communities where they live. The majority express the desire for stability, and the need to see hope for the future.
Since 2015, the Gully Queens Charity has been able to secure a series of small grants that have allowed short-term/ emergency interventions by taking many of the homeless LGBT community off the streets. Larry Chang Foundation's program is designed to reduce premature death and restore hope within our clientele by providing:
– Shelter; providing safe shelter in various models (group housing or independent living)
– Improve Health Outcomes; individualised care plans, meals that support diet plans & access to and retention in discrimination free healthcare
– Psychosocial support & Life Skills Training; Provide access to counselling sessions (group and one-on-one) based on care plans as well as Empowerment sessions utilising 'you empowerment GPA' model
– Improve Employability; remedial educational programmes, employability workshops, and readiness seminars & documentation such identification, TRN etc
Iconic Images will exhibit its full roster of world-renowned photographers at Photo London, showcasing images that have never been exhibited before, including vintage works by pioneering British photographers Terry O'Neill and Norman Parkinson. O'Neill chronicled the rise of youth culture in the 60s, charting emerging rock and roll bands before working with the biggest names in and cinema, from the 60s to present day.
Don't miss these rare and vintage photographs at G22 and F14 at Photo London at Somerset House from May 17th – 20th.
Other iconic works featured include Douglas Kirkland, Milton Greene, Markus Klinko, Jerry Schatzberg, John Swannell, Terence Donovan, Gered Mankowitz and Norman Seeff.
IMG: Terry O'Neill signing large Fibre limited edition prints at Metro Imaging.
Next week Leica Studio Mayfair will host the book launch and corresponding exhibition for the poignant series Photographers Against Wildlife Crime. This collective body of work will feature a selection of fine art giclée prints produced with the team here Metro Imaging.
Founded by Britta Jaschinski and Keith Wilson, Photographers Against Wildlife Crime™ are an international group of award-winning photographers that have joined forces to use their powerful and iconic images to help bring an end to the illegal wildlife trade in our lifetime.
The exhibition is running from May 14 to June 7, at the Leica Studio Mayfair and will officially launch on the 18th of May, 2018.  For all further info and trailer to the series of work see:   www.photographersagainstwildlifecrime.com
Photographers Against Wildlife Crime™ are:
Adam Oswell • Adrian Steirn • Brent Stirton • Brian Skerry • Britta Jaschinski • Bruno D'Amicis • Charlie Hamilton James • Chris Packham • Daniel Beltra • Jim Brandenburg • Jo-Anne McArthur • Karl Ammann • Klaus Nigge • Michael 'Nick' Nichols • Neil Aldridge • Ole J Liodden • Olly & Suzi • Patrick Brown • Paul Hilton • Peter Chadwick • Steve Winter • Sudhir Shivaram • Tony Wu • Zheng Xiaoqun • Writer: Keith Wilson
IMG 1 © Adrian Steirn
IMG 2 © Olly & Suzi
This week the Chelsea based, contemporary art gallery Box Galleries are launching FAME – their exclusive collection of unseen photographs by Andy Gotts,  alongside a classic collection of icons by Terry O Neill and Douglas Kirkland.
Metro have been privileged to work with all three of these iconic photographers over the years, producing a range of fine art giclée, digital c-types and true black and white prints for a variety of exhibitions and collections.
Andy Gotts MBE MA is most noted for his black and white portraits of Hollywood actors and singers. Since 1990 Gotts' work has been published internationally and has appeared in many magazines, including French Vogue, GQ and Vanity Fair.
The National Portrait Gallery holds a selection of his photographs in their permanent collection and in 2009 Gotts was honoured with the presentation of the Fox Talbot Award.
FAME will show at Box Galleries between 10-31st May 2018, with the private view held 6pm on Thursday 10th May.
IMG © ANDY GOTTS
With the count down to Photo London 2018 in full swing we look at some highlights and 'must-sees' at this years fair.
THE WORK
Hala -Steve Macleod, Black Box Projects
"The longer we stare at nothing, the more chance that something will appear to us, creating an unfathomable aura and thoughtful meaning." – Steve Macleod says of new series Hala, a project inspired by photographs captured by British explorer Sir Wilfred Thesiger. This new body of work documents the vast landscape of the Al Hajar Peninsula in the United Arab Emirates, one of the most desolate and inhospitable areas in the region. The mountain range offers a true vision of wilderness; empty and devoid of human presence.
Hala will be shown for the first time as part of Photo London with Black Box Projects  and include limited edition fine art Giclée prints produced here at Metro Imaging on both Hahnemühle Photo Rag and German Etching papers.
THE ARTIST
Steve Macleod is a British landscape photographer whose career has spanned over 20 years. He shoots on a large-format camera, using nature to share the conceptual impact and influence it can have on our emotions; our health and our imagination
THE GALLERY
Black Box Projects specialises in contemporary photography and contemporary art that is created using photographic materials. The gallery is committed to working with artists who push the limits of traditional photographic practice. The gallery does not keep a permanent space, instead it arranges pop-up exhibitions in order to tailor the experience to the individual needs of the artist and the work.
"For Photo London 2018, Black Box Projects presents Steve Macleod's latest series and the UK debut of 'Hala'. Shot in the United Arab Emirates between 2015-2017, it is the first time Macleod has published work taken outside of the UK. The series is printed as archival inkjet on highly textured watercolour paper giving the works a painterly style reminiscent of early Japanese watercolours and a tactile quality that harks back to Pictorialist aesthetic values." – Black Box Projects on Macleod's series Hala.
Check out 'Hala' with The Black Box Projects at Photo London in the Discovery section of the fair form May 17th – May 20th at Somerset House.
ALL IMAGES © Steve Macleod
Ahead of Photo London 2018 we're highlighting some of the work by our wonderful clients showing at Somerset House this May.
THE WORK
Dazzle Site Installation for 'On the Heights' – Tom Lovelace
Late last year the 'On the Heights' exhibition showcased new work by four artists; from Miriam Austin, Sam Belinfante, Tom Lovelace and Frances Scot. The work was produced when all four artists were invited to spend two weeks living and working at Yorkshire Sculpture Park (YSP) in April 2017.
The work explores the history, stories and landscape of the area, presenting a new dialogue between nature and experimental contemporary art practice for visitors to explore whilst extending YSP's history of building relationships with and supporting young and emerging artists through the visiting artist programme.
Metro worked with Tom Lovelace producing C-Type prints for part of his installation which sensitively considers the extraordinary setting of YSP.  Considering slippages in the manipulated landscape, Tom's work prompts moments of uncertainty and doubt across various locations in the Park.
For this years Photo London, Flowers Gallery will be exhibiting some of Lovelace's work from YSP as part of their fair program.
THE ARTIST
Tom Lovelace lives and works in London. He studied Photography at the Arts University Bournemouth, receiving First Class Honours before studying Art History at Goldsmiths College, University of London. Lovelace works at the intersection of photography, performance and sculpture. His practice is grounded in a reinvention of everyday objects, materials and processes.
In 2015, Lovelace was nominated for the Deutsche Börse Photography Prize, Foam Paul Huf Award and the Prix Pictet Award. He has exhibited across Britain, Europe and the United States. Recent exhibitions include Groundwork (New Art Centre, Salisbury 2015), Mirage Valley (Lendi Projects, Switzerland 2015), To Camera (Golden Thread Gallery, Belfast 2015), This Way Up (Flowers Gallery, London 2015), Against Nature (London Art Fair, 2015), Project 05 (Contemporary Art Society, London 2014), Ristruttura (Project B Gallery, Milan 2012) and Uncommon Ground (Flowers Gallery, London 2012).
THE GALLERY
Established in 1970 by Angela Flowers, Flowers Gallery has two London exhibition spaces in Mayfair and Shoreditch along with a New York Gallery in Chelsea. Flowers Gallery currently represents 48 international artists working across a diverse range of media, with a dedicated photography space, established in 2008, recognised for its engagement with important socio-cultural, political and environmental themes.
ALL IMG © TOM LOVELACE
Next week sees the launch of photographer James Hopkirk's      'South London Stories' at the Ace of Clubs, a centre supporting the homeless and vulnerable in south London.
Hopkirks' project investigates the human cost of austerity on Lambeth, telling local stories that highlight national issues. He will be featuring seven or eight stories relating to austerity, one of which will be about the fantastic Glass Door's winter shelter and another about the good work done by the wonderful team at Ace of Clubs.
Metro Imaging was delighted to produce digital c-type matt prints for this compelling exhibition and provide support via our online self-service.
"The issues I explore are not unique to south London. What's happening here is affecting communities all over the UK. But this is my community, and in the course of producing this work I've encountered hardship that I simply didn't realise still existed in this country, let alone on my doorstep.
At the same time, I've found countless examples of extraordinary kindness, of people – friends, family, neighbours, volunteers, support workers – going to enormous lengths to help others, sometimes when they themselves are barely getting by.
With the stories I publish here I want to offer a view of London that is seldom seen, and feature voices that are often ignored."  Says James of his ongoing project.
The launch at Ace of Clubs on 10 May, 6-9PM will feature the full exhibition and the chance to explore the facilities at the centre along with Q&A with manager Sarah about homelessness and the work they do.
RSVP: Email james@southlondonstories.com you will then be be sent further details and added to the guest list.
The exhibition will also be open on Saturday 12 May from 12-5pm when you can just turn up.
ALL IMAGES © JAMES HOPKIRK
With Photo London 2018 just around the corner, we look at the photography and artists to visit at these years fair and satellite events.
THE WORK
'Black Palms' by Karine Laval
One of the highlights for us last year was working with   Crane Kalman Gallery again and producing these bespoke grey floating box-frames for Karine Laval's 'Black Palms' prints.
THE ARTIST
Born in Paris, Karine Laval currently lives and works in New York. Educated at the University of La Sorbonne and the University of ASSAS in Paris, she studied communication and journalism, and completed her education with photography and design courses at Cooper Union, SVA and the New School of New York.
Since the beginning of her career, Laval has alternated agency and magazine commissions and publications (Here is New York 2002) with an artistic practice, that combines portraiture of personalities from the cultural world with images of geographical locations (France, Norway, Portugal, Cuba) and visual narratives.
Her photographs are notably spontaneous and reminiscent of the photographs of masters such as Henri Cartier-Bresson or William Eggleston, with whom she shares a similar use of colour as an expressive tool.
THE GALLERY
Crane Kalman Brighton has been established to provide an affordable introduction for anyone interested to buy, and possibly, collect photography. Crane Kalman Brighton sells a wide range of work from the best young local talent to some of contemporary photography's leading lights.
Visit Crane Kalman at Photo London 2018 and see some of Karine's latest works on show.
Metro is excited to be collaborating with our friends at The Old Bank Vault (TOBV) again for an exclusive photography and textile exhibition in their east London gallery. This unique exhibition encompasses both blankets crafted by PARIS ESSEX duo Carolyn Clewer and Tiphaine de Lussy and photographs composed by Danish born Photographer Louise Melchior.
We produced the 'FLASH SIGHTINGS' photographic prints on Fine Art Giclée Photorag paper to sit amongst the unique blankets which will be on show at TOBV gallery in May.
This ongoing photography and textile collaboration between Louise Melchior and Paris Essex has evolved over the past two years. Together they are interested in gently introducing the cosy, decorative and home-loving blankets to the outside world, but staying within ordinary and familiar surroundings.
Draped in colourful hand-crafted blankets, a cast of local men are invited to pose as pseudo-classical characters in a series of improvised Tableaux Vivants. Using the flash as an impromptu spotlight, the camera captures their grandiose posturing at the bottom of the garden.
The exhibition will run at The Old Bank Vault from May 1st to May 13th with private view and launch night of FLASH SIGHTINGS on Thursday May 3rd, 6.30pm
RSVP Here for private view night of FLASH SIGHTINGS!
The Artists
Paris Essex A partnership between Carolyn Clewer, the Essex girl and Parisienne Tiphaine de Lussy, Paris Essex is the result of years of collaboration between the two knitwear and textiles specialists, which began over 20 years ago at the Royal College of Art. They share a visual language and are drawn to the materials, processes and pace of fashion, the continual reinvention and juxtaposition of ideas.
Danish born photographer Louise Melchior studied sculpture at Chelsea College of Art from where she graduated in 1997 and has since completed a Masters at Goldsmiths in photography. Melchior is preoccupied with the instantaneous nature of photography, and uses the camera as a tool for discovery. She is enthralled by insignificant monotonous and often transitory subjects found in her daily life. The collaborative work with Paris Essex stands in strong contrast to her other work, for one, her personal work shows evidence of human interaction but is purposely devoid of people. On the other hand elements reoccur such as the immediacy of the moment that was, the suggestive notion the image evokes, and the isolation of the subject matter.
The Prints
The large fine art gilcée prints were produced on Hahnemühle Photo Rag 308gsm using our online Self- Service system  – ideal for visual artists on a tight deadline or budget!
The Gallery 
At The Old Bank Vault works with independent suppliers, emerging and established artists to curate versatile collections to suit various personalities. Their London concept gallery fuses bespoke art, high end 'Made in England' fashion & Contemporary living.
ALL IMAGES © Louise Melchior
BLANKETS © PARIS ESSEX
Metro is delighted to be working with neighbours the wonderful Curious Duke Gallery and supporting their prestigious Secret Art Prize.
As part of the collaboration we are offering a premier portfolio prize for the winner which includes; a one-to-one portfolio review with our creative director Steve Macleod, a guided tour of the production lab and a tailored session with a print technician to discuss and prepare your work for print production.
WHAT IS THE SECRET ART PRIZE?
The winner of Secret Art Prize 2018 has the opportunity to showcase their works within a dedicated space at Moniker Art Fair with curatorial support from both Moniker Art Fair and Curious Duke Gallery. They will earn full representation from Curious Duke Gallery, mentoring from CDG founder Eleni Duke, a £1000 cash prize and gifts from Jacksons Art and a portfolio review from Metro Imaging.
There will also be four runners up who will receive gifts from our sponsors, representation from Curious Duke Gallery
WHO CAN APPLY? 
The Secret Art Prize is open to all urban and contemporary artists. Disciplines welcome include painting, sculpture, drawing, printmaking and photography. We do not accept film and performance pieces.
HOW TO APPLY?
A very simple question – just click here to find out.
WHAT IS THE PRIZE?
From Curious Duke Gallery
Curious Duke Gallery may have began in September 2011 as a pop up, in addition to the online gallery, but CDG now stands as a fully fledged 'anti-gallery'. Curious Duke Gallery is currently London's leading urban and contemporary art space for emerging artists.
– Representation
– Exhibition
– Mentoring with Director Eleni Duke
From Metro
Over 37 years in the photographic industry has taught us that every person who works here is as important as our clients. Our aim is for a flexible workforce with multi-skilled and cross-trained people so that our level of expertise is second to none.
– Premier Print + Portfolio Prize worth over £500
– Set of x10 portfolio prints based on our Premier Bespoke Service
– A guided lab and production tour
– A on-to-one portfolio review with Creative Director
– Tailored production advice with a Metro print technician
From Moniker Art Fair
Established in 2010, Moniker Art Fair has earned a reputation as one of the most exciting contemporary art fairs with it's roots embedded in urban culture.
– A display of Art Work at Moniker Art Fair 4 – 7 October 2018
– The winning artist will be commissioned to make an installation art work which incorporates a collection of the winning artists work.
From Jackson's Art Supplies
Jackson's is a well-established maker and supplier of art materials. Their mission is to provide artists of all abilities with the paints, inks, paper, ideas and every tool imaginable to help them realise their creative potential.
– £150 worth of Jacksons fine art vouchers
– Editorial feature on the Jacksons Art Blog
Cash Prize
– The winning artist will receive a £1000 cash prize.
RUNNERS UP
There will also be four runners up. The runners up will receive an group exhibition with Curious Duke Gallery, mentoring with Eleni Duke and representation from Curious Duke Gallery.
PEOPLE'S CHOICE WINNER
There will also be the People's Choice Award. The applicants will be long listed to 100 who will all go to the public vote, the winner of the public vote competition will be shortlisted straight to the final 10.
Find out more about Curious Duke Gallery here
Last Thursday the all analogue print publication – PYLOT Magazine, launched their much anticipated 8th Issue, and Metro were delighted to collaborate with Fuji Film UK to support their pop-up exhibition.
Issue 8 focuses on 'Autonomy' explores themes such as: The attitude changes we experience during our teenage years, motherhood and the representation of women, the human relationship with technology and how it impacts upon our daily routines and decision-making processes, creative ways of subverting power in society, be that as a collective or on our own.
For the launch, we have teamed up with Fuji to produce an exhibition of work from Issue 8 on Fujicolour Crystal Archive Professional Velvet. This paper is ideal for artists looking for a dead matt print on a true photographic digital C-Type paper.
Autonomy features contributions by: Ed Templeton, Andrea Riseborough, Billie JD Porter, Kira Bunse, Akram Khan, Raven Smith, Chris Killip, Marco Santucci, Matthias Steinkrause, RareBooksParis, Lanvin, TOGA, Mara Palena, and more.
Check out our Fuji Velvet C-type paper here and see more info on PYLOT issue #8 here.
Metro Imaging is delighted to launch its student photo award – THRESHOLD.
Open to all students at any level, we invite entrants to submit one piece of work that they feel defines their practice to date via this open theme.
Submissions will be judged by a panel of industry influencers (details below) who will choose one overall winner and five shortlisted winners. The panel will be looking for quality, context, and strong message within the submissions.
All six winners will be exhibited at Metro Imaging in central London throughout September 2018, with the overall winner announced on the opening night Tuesday 4th Septhember.
PRIZE:
One overall winner
x1 £1000 production credit to spend at Metro Imaging
x1 12 month tailored Mentorship at Metro Imaging
x1 work displayed as part of Metro Student Award
Five Shortlisted winners
x1 work displayed as part of Metro Student Award
x1 £50 Gift Vouchers for Metro Imaging
JUDGES:
Owen Harvey – award winning youth and subculture photographer.
Carole Evans – photographic artist, cultural organiser and educator.
Prof. Steve Macleod – creative director, photographic artist, master printer and educator.
REQUIREMNETS:
A single image you feel defines your practice to date
x1 Image (digital file)
x1 Paragraph that describes how this image sums up your practice to date (100 words MAX)
DEADLINE:
6pm Friday 29th of June 2018
ENTRY:
ENTRIES ARE NOW CLOSED
Once judging has been completed, we will be contacting the winning entrants directly in order to send their high res files for printing ahead of the September exhibition.
IMAGE CREDITS:
Printing at Metro Imaging lab
Skins + Suedes – Owen Harvey at Metro Front of House
The Precursor Project at Metro Front of House
We officially announce our new Metro Framing website, the dedicated framing branch of Metro Imaging.
Metro introduced bespoke framing as a service in 2012 and since then it has grown from strength to strength. With our new framing website, we are able to collate all the information you need about the wide range of professional framing solutions that we offer on one platform.
The winners of the British Journal of Photography's International Photography Award 2018 are Copenhagen-based collective Sara, Peter & Tobias. The trio have won with their series 'The Merge', an in-depth exploration into artificial intelligence and robotics, which aims to explore and visually interpret the possibility that we are living inside a simulation.
The BJP IPA winner's Sara Galbiati, Peter Helles Eriksen and Tobias Selnaes Markussen shared a studio but worked separately for several years before coming together to start a collaborative creative studio in 2013.
"Since forming their collective, Sara, Peter and Tobias have made a name for themselves with their first project and photobook, Phenomena. This debut project was an anthropological study of UFOs and extraterrestrials, and was exhibited at Rencontres d'Arles and nominated for Prix de la Photo Figaro. It introduced their conceptual and subjective approach, akin to documentary, which considers issues founded on theories and first-person accounts rather than fact. This unique approach has continued through to The Merge." – Sarah Roberts , BJP , Mar 2018
As part of the IPA prizes Sara, Peter and Tobias have won an in-person review of their portfolio from expert team here at Metro Imaging as well as production of their solo exhibition in London.
'The Merge' will be exhibited in a solo exhibition at TJ Boulting Gallery from the 13th July to 11th August. The exhibition will be open to the public, and is an opportunity for people to come and see this seminal work for themselves.
You can read about Sara, Peter and Tobias work and practices in latest interview with the BJP here.
Stay tuned to the Metro Imaging newsletter for latest on BJP IPA 2018, including interview, Instagram takeover, behind the scenes with the production process and all info on the launch!
In the meantime you can see the exhibition we produced for BJP IPA 2017 winner Dani Castro Garcia and his exceptional project Foreigner at TJ Boulting last April.
All images from the series The Merge © Sara, Peter & Tobias
Frame Hire – a practical way of showcasing your work!
When you're thinking about framing your artwork, planning ahead is key: What is achievable within my budget? How much time have I got? What frame size do I need for my print? Where and how will I be installing these framed pieces?
If you are on a tight budget or short deadline, don't worry, we've got you covered.
As an inexpensive alternative to our bespoke framing service, we offer short or long-term frame rental – that is from just one day, up to several weeks. Frames for hire are an ideal way to showcase your work, for instance, for one-off events, pop-ups, short exhibitions, or exhibitions where the frames won't be required after the event.
This range of ready-to-go hire frames comes in standard frame sizes, and is constructed to our usual high standards. Built with oak moulding stained black for a classic look and supplied with standard clear glass.  Complete with MDF backing and flexi-clips, our fitting costs include hanging fixings. We also have window mounts available for specific image sizes and artwork can be fitted by our team for an extra fee.
These frames are also available with or without window mounts and artwork can be fitted by our team for an extra fee.
Available in three sizes:
20″ x 16″
24″ x 20″
30″ x 20″
All frames are thoroughly checked on return so you can rest assured that they will always be in top condition.
Contact our team for bookings, costs and further information.
Daniel Shea's new book '43-35 10th Street' is about architecture and its relationship to ideological and socioeconomic shifts.
We were delighted to work with Daniel to produce a selection of giclée mounted prints, exhibited at the Webber Gallery, London to coincide with the book launch this March.
The work began with a simple premise; for Shea to observe the residential real estate boom in his neighbourhood of New York City, Long Island City. This type of development boom, happening in cities globally, is a distinctly late capitalist solution to the perception of housing needs.
Images of Long Island City in New York are juxtaposed with the government buildings in the famed Brazilian city of Brasilia, built ex-nihilo 50 years ago. Images of a dying California industrial town suggest a cycle of dissolution, real estate value, and entropy.
Architectural forms, from disparate places and historical moments, evolve and echo. If modernist architecture reflected a utopia of civic engagement, neoliberalism's departure comes in the form of a utopia of consumer engagement.
Establishing the studio as a site of artistic production, surrounded by a different form of labor that builds cities, he aims to construct an analogy between his own mobility and the macro flow of capital that is ever present in our globalized world.
Daniel Shea's  43-35 10th ST work will be on show at Webber London form 22 March until 4 May 2018.