This autumn, Tate Britain will open a group of new free displays as part of its ongoing Spotlights programme, including the unveiling of a major new installation, titled Lead White, by Zarina Bhimji, and Metro Imaging was lucky enough to work on the production of a number of prints for the exhibition.
The debut presentation of this new installation by internationally renowned artist Zarina Bhimji consists of over 100 unframed photographs and multiple embroideries. Lead White is a profound meditation on power and beauty. It is the culmination of a decade-long investigation conducted over multiple continents, delving into national archives to capture details of words, lines, stamps and embossing. Bhimji creates poetic narratives by editing and repeating these details as if constructing a musical composition. The work also combines digital and physical crafts – including the use of embroidery for the first time in Bhimji's practice – drawing attention to textures and traces, light and shadow.
Zarina Bhimji was born in Uganda and lives and works in London. She was nominated for the Turner Prize in 2007, exhibited at Documenta 11 in 2002, and is represented in numerous public collections including Tate, the Museum of Contemporary Art in Chicago and Moderna Museet in Stockholm. Lead White has been commissioned by Sharjah Art Foundation and supported by Arts Council England.
Bhimji says her work is about beauty and issues that are personal and universal. She likens her process to a forensic investigator, looking at records of treaties signed and territories mapped, searching for evidence of what crimes could have been carried out.
Exhibition Details:
19 NOV 2018 – 2 JUN 2019, 10am. – 6pm.
Tate Britain, main floor
Millbank, London SW1P 4RG
All Images by © Zarina Bhimji
On 14 December 1918 women in the United Kingdom voted for the first time, and in the same year the first female MP was elected. Launching 14 December 2018, 209 Women marks that significant moment in history, whilst also highlighting the ongoing need for further gender equality across society and politics. Metro Imaging is delighted to be collaborating with this landmark project and its dedicated photographers.
As an all-female photography initiative, portraits of all 209 women MPs have been exclusively shot by women artists. These images will be displayed in a free, public exhibition opening on 14 December — 100 years to the day that the first women cast their votes in the 1918 UK general election. The photographs will be displayed firstly at Portcullis House, Houses of Parliament, before travelling North to Open Eye Gallery in Liverpool in the New Year.
Metro is honoured to support and work with the team- including Hilary Wood , Cheryl Newman, Tracy Marshall and Lisa Tse – behind 209 Women in producing high-end, archival prints, expertly finished in Box Frames for their inaugural exhibition.
"The idea for the exhibition came from my own experiences of gender inequality. I've worked mainly in male-dominated fields for the past 18 years. I've got two daughters and I wanted to be part of changing things so that they grow up in a society that is more gender equal. Since 1918, 4,503 men have been elected to the UK parliament – compared to just 491 women. On the centenary year of women's suffrage, I wanted to celebrate how far we've come, but I also want to bring awareness to continued gender inequality by championing the visibility of women in power. This exhibition will bring visibility to those women that are part of making the fundamental changes to women's equality." – Hilary Wood, Founder and Curator.
Although the Suffrage Movement achieved the first votes for women, there is still a long way to go to cement a culture of true gender equality across all spheres of society in the UK, particularly in positions of power. Women MPs only form 32% of the House of Commons.
The project began as a voluntary endeavour, but the team has been working closely with Open Eye Gallery to secure fees for the artists. The initial crowdfunder to raise support for the artists ran over summer 2018, and now the team is welcoming individual exhibition patrons, limited to 209 places.
Exhibition details:
The exhibition will hang in Portcullis House, Westminster from 14th December 2018 until February 2019. You can book your tickets for the free exhibition here.
From February 2019 it will travel to Open Eye Gallery, to be exhibited in partnership with Culture Liverpool.
IMAGES ©
1. Tulip Siddiq MP, photographed by Jillian Edelstein
2. Exhibition installation shot at Portcullis House, taken from Alison Thewliss verified Twitter account @alisonthewliss
3. Exhibition installation shot at Portcullis House, taken from Alejandra Carles Tolra verified Twitter account @acarlestolra
Metro Imaging is proud to continue it's ongoing partnership and support for Portrait Salon 2018. This year, the eighth edition of Portrait Salon will not only be showcasing a selection of rejected work from the Taylor Wessing Photographic Portrait Prize but will also include rejections from The British Journal of Photography's Portrait of Britain competition.
Portrait Salon aims to question the place of competitions within the photographic industry, and their role in determining current trends. By accepting these rejected submissions, the intention is to show that there is top quality photography not getting the exposure it deserves.
For this year's competition, there were no judges: the final selection for Portrait Salon 2018 was completely made by the public. After the submission deadline on September 14th 2018, all entries were available to see via the Portrait Salon website, allowing two weeks for the public to vote for their preferred image. The ones with the most votes would win the chance to be part of the Portrait Salon 2018 exhibition. Over 15,000 votes were placed, with a final selection of 52 portraits.  You can read how Tom Hole at Stirtingale crunched the numbers here.
The selected 52 portraits will be projected in the exhibition at Peckham Levels, with a clear indication of which images have been rejected from the Taylor Wessing Prize and which from Portrait of Britain. Accompanying this will be a very special publication designed by Stanley James Press.
Exhibition Details:
27th November, 6.30 to 10.30pm.
Level 5, Peckham Levels
Peckham Town Centre Car Park
95A Rye Lane
London, SE15 4ST.
Images ©
This autumn, Somerset House presents GOOD GRIEF, CHARLIE BROWN! Celebrating Snoopy and the Enduring Power of Peanuts, and Metro Imaging is proud to have taken part in the production of this show, printing a series of large Duratrans for lightboxes looking astonishing at the entrance of the exhibition room.
GOOD GRIEF, CHARLIE BROWN! Celebrating Snoopy and the Enduring Power of Peanuts is curated by Somerset House's Senior Curator Claire Catterall, and in partnership with the Charles M. Schulz Museum and Research Center, brings together the original drawings of the cartoon's creator Charles M. Schulz with work from a wide range of acclaimed contemporary artists and designers who have been inspired by this highly influential and much-loved cartoon.
The exhibition features over 100 comic strips and personal artefacts from the Schulz Museum and works from contributors including: Andy Holden, David Musgrave, Fiona Banner, François Curlet, KAWS, Ken Kagami, Lucas Price, Mark Drew, Mark Mulroney, Mel Brimfield, Mira Calix, Ryan Gander and Steven Claydon; and unpacks the panels that tackle topics such as feminism, faith, racial equality and existentialism, standing as a testament to the power of popular arts.
Accompanying the exhibition is a rich programme of events and learning opportunities for all ages, as well as a beautifully illustrated exhibition catalogue featuring all the fascinating stories from the show.
Exhibition Details:
25 Oct 2018 – 03 Mar 2019
£14.00 / £11.00 concessions, Under 12s free
Somerset House
Embankment Galleries, South Wing
Strand, London WC2R 1LA
Copyright Peanuts World LLC
The work is by Friends With You and is part of the broader exhibition Good Grief, Charlie Brown.
Image credits: Good Grief, Charlie Brown! Celebrating Snoopy and the Enduring Power of Peanuts at Somerset House © Tim Bowditch courtesy Somerset House
We've listed all our print, processing and framing deadlines below for you to use as a handy guide this Festive Season. And, for those of you last minute Christmas shoppers – don't worry, we have plenty of Metro Imaging Gift Vouchers and film stocked in our front of house right up until Friday 21st December
CHRISTMAS DEADLINE DATES FOR ORDERS:
Bespoke Service appointments:  Tue 18th Dec
Bespoke Service C-type (Matt, Gloss, Velvet under 40″x30″ only): Wed 19th Dec
Bespoke Service B&W (+ Duratrans, metallic, etc): Tue 18th Dec
Bespoke Service Giclée: Tues 18th Dec
Bespoke Service Mounting: Mon 10th Dec (Times may vary for MDF and reverse perspex)
Bespoke Service Framing: Wed 5th Dec (this is due to a high volume of current orders)
Self-Service Orders C-type (Matt, Gloss, Velvet under 40″x30″ only): 2 pm Thurs 20th Dec
Self-service orders B&W (+Duratrans, Metallic, C-type over 40″x30″, etc):  Wed 19th Dec
Self-service orders Giclée:  Tues 18th December
Self-Service Mounting(with print order): Fri 10th Dec (Times may vary for MDF and reverse perspex)
Self-Service Framing (with print order): Mon 3rd Dec (this is due to a high volume of current orders)
Film processing: 10 am Wed 19th Dec
Film scanning:  Thurs 19th December
Retouch Appointments: Thurs 20th December
CHRISTMAS LAST POST DATES
International Last Posting Date Christmas 2018
ROYAL MAIL UK SERVICES
Thursday 20th December
1st Class Royal Mail Signed For® 1st Class
21st December
Royal Mail Special Delivery Guaranteed®
ROYAL MAIL INTERNATIONAL SIGNED FOR
4th December
Africa, Middle East
7th December
Cyprus, Malta, Asia, Far East, Eastern Europe (except Poland, Czech Republic and Slovakia)
8th December
Caribbean, Central and South America
10th December
Greece, Turkey, Australia, New Zealand
14th December
Canada, Czech Republic, Italy, Poland and USA
15th December
Finland, Sweden
17th December
Austria, Denmark, Germany, Iceland, Netherlands, Norway, Portugal, Slovakia, Spain, Switzerland
18th December
Belgium, France, Ireland, Luxembourg
Bikes/Vans will be operating a normal service up until 21st December.
Overnight UK will be operating a normal service up until the 20th December (Last deliveries to arrive 21st December)
International Couriers – Please contact Despatch
This month our Expert Tip comes from Ciaran Woolcombe, our Front of House & Self-Service Coordinator. Here, he shares his advice on preparing your digital files for production and how to achieve maximum quality for your prints.
Start with DPI
In printing, DPI (dots per inch) refers to the output resolution of a printer or imagesetter. At Metro, our machines run at a variety of DPIs from 200 to 400 (and some random numbers in between), we usually recommend for you to work at 300 dpi as it tends to be the best all round for art and photographic printing, then we will sort the rest!
Preparing Files for Print
The best way to get exact sizes and maintaining control over borders is to set your files up using an industry recognised image editing software. Ideally, something like Photoshop. However, there are plenty of others to choose from and should work in a fairly similar manner.
This guide will be using Photoshop, to size the same image in 3 different ways:
– to as close to 10″ x 8″ without cropping
– to exactly 10″ x 8″ without borders
– to image within a 10″ x 8'' canvas with borders
Guide 1: Image, No Border, No cropping (by pro)
First things first, once you have your file opened, you will want to size it by going to 'Image>image size'
This will bring up an 'Image Size' box – make sure you have resample ticked, the DPI set to 300, and on the longest edge type in 10. Photoshop will then do the smaller edge automatically, in this case, the closest to a 10″ x 8″ we can get without cropping would be 10″ x 6.532″. (Some images will be different shapes, depending on the format of the camera it is shot on).
Also, make sure the resolution is set to Pixels/ Inch as opposed to Pixels/ Centimetre.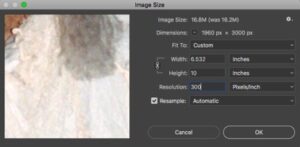 Guide 2: Image, No Border, Exactly 10″ x 8″ using crop tool
Once your image is opened, you will want to select your crop tool.
A box appears in the drop down box you will want to select W x H x Resolution, this will allow you to input the exact size and print dpi that you require.

I have selected 10 x 8 at 300dpi, always double check you have selected px/in as opposed to px/cm.
You will then be able to crop the image as desired and it will save it down as the selected dimensions, you can check it has worked by going to:
Image>Image size
The file has now been cropped to exactly 10 x 8 at 300dpi.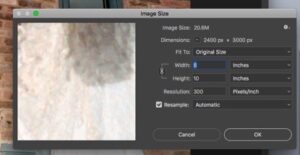 Image Set-up On A 10″x 8″ Canvas with Borders
Once the image is opened, you will want to go to:
Image>image size
Here you will want to make your image size smaller than the desired final size, which in this example will be 10″ x 8″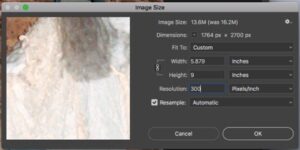 This image Pros out to 9″ x 5.879''
Hit okay and then you will want to go to:
Image> Canvas size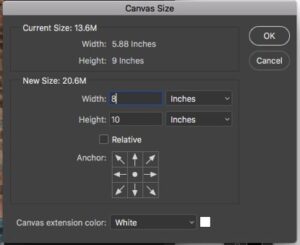 As my required final size will be 10″ x 8″ I have imputed this, hit okay and Photoshop will automatically centre the image on a 10″ x 8'' piece of paper.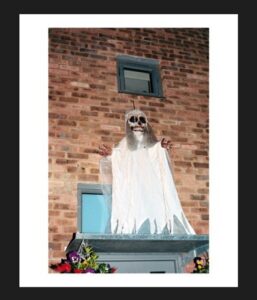 You can then check everything has gone smoothly by going back to image size: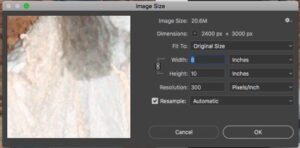 Checking The Image Looks Good At Size
One of the key things to check is whether or not the file is holding up at the size you require, the best way to check this is using the ruler tool in Photoshop.
To make sure the rulers are turned on you will need to go to View > Rulers, and a ruler will then appear around the image, if you right click this you can then select your preferred measurement, in this case, good old-fashioned inches.
If you then zoom into the image and get the ruler to represent an inch, you are then viewing your image on screen at print size, giving you a good indication of how it's going to turn out when printed.

Or you can zoom in to 33.3%

Out Put and Saving File
Before saving you will want to make sure your image is saved in the correct colour space, (although we have most of our c-type paper profiles available for download if you are confident in profiling), I would recommend submitting your files to us in Adobe RGB (1998) as we will profile them before they go to print.
To do this you will need to go to Edit > Convert to Profile and from the drop down box select Adobe RGB (1998)

After you have done this you will need to save your file down ideally as a .TIFF file, do this by clicking File> Save as in the format box select TIFF and hit save in your desired location.
The file will now be ready for upload to our online self-service


Screen
Ideally, for the closest translation from screen to print, you will be working on a high quality calibrated monitor such as an Eizo like we use here in the lab. This is because most backlit screens do not translate well to print, this is especially the case, with super glossy retina Mac screens which tend to make everything look much brighter and way more saturated than they are –which is great for films, but not so great for printing–  this can make it difficult to predict how an image will come out when printed.
If you are really unsure we do offer a Self-Service Premier Service (which is certainly a lot cheaper than a calibrated screen!). Within this level of service, our professional technicians will check your files to make sure they are looking good and will make a few adjustments if necessary, to get the best quality print as possible.
You can order via our Self-Service here or read more about preparing your files with  Controlling Your Physical Environment.
Metro was delighted to work with Maisie Cousins to produce archival C-Type Prints ahead her solo show selected to launch Elephant Magazine's first physical art space, Elephant West.
Known for her bright, colourful and playful style, this newly commissioned series will explore the joy and ceremony of eating.
"Dipping Sauce" will reveal large scale, hyper-saturated macro imagery of food, plants and nostalgic objects related to eating, to create a truly immersive environment. Her work carries complex layers of messages, often placing the audience uncomfortably up-close to her work and treading a carefully balanced line between the beautiful and the disgusting.
"I'm interested in our current obsession with food in the western world. Everyone takes pictures, whether their food is delicious or naughty, horrible or bleak. I spend a lot of time on Instagram looking a people's depressing dinners – I find something honest and funny about them. This project is an amalgamation of all the things that I find charming and funny about food." says Cousins of the work that will be exhibited.
This will be the first time that Maisie's work has been shown at such a grand scale. With some images enlarged to create wallpaper-style backdrops for smaller images on lightboxes, and some displayed at five times their usual size, the installation immerses the audience into the sticky, sweet and gunky world of Maisie's visual playground. At a time when consumers are beginning to question the provenance of the food they buy, and at the same time are able to procure almost anything they want via enormous global supply chain networks, Maisie confronts us with the reality of our gluttony and desire. At once seductive and repulsive, these heavily charged images both celebrate and question the human relationship to food, bringing in elements of childhood nostalgia and sensorial references to emphasise the link between memory and eating. It's not always clear what the elements of the images are, and Maisie uses this ambiguity to seduce the viewer, creating moments of surprise, delight and horror in equal measure.
Becca Pelly-Fry, Head Curator at Elephant West, believes Cousins to be the perfect collaborator for the opening of Elephant West, commenting:
"Maisie was brought up in West London, and it felt important for our first project to be connected to the local area, showcasing the inherent creativity of West London. Maisie is at a critical point in her career; this opening commission for Elephant West captures her on the point of really blossoming as an artist. "
'Dipping Sauce' will be interspersed with talks, workshops and other special events and will run from 10 November to 2 December 2018.
Depending on the size of your print and your choice of substrate, you may have the option of choosing between either split-battens or a sub-frame to hang your final piece.
Once over a metre square, mounted prints will require the additional support of an aluminium sub-frame. It's important to note that fixings can only be applied to inflexible substrates, such as Dibond or Perspex. Materials such as Foamex and Kapa are not sturdy enough to attach fixings, as any flex will cause them to pop off. For these lighter materials, we often suggest Velcro for hanging. Sub-frames will also often be fitted within large-scale classic frames; hidden from view, but providing the frame with additional support and longevity.
Aluminium Sub-Frame
Once over a metre square, it is imperative to fix your mount with a sub-frame. Sub-frames consist of narrow aluminium strips that frame the reverse of the mount, these are bonded with a pressure-sensitive adhesive and usually allow a small border from the edge of the substrate. These prevent any warping, twisting or bending from happening, keeping the mount rigid: there is consistent support for the whole piece.
As well as this, sub-frames are often the more aesthetic choice, as they sit closer to the wall in comparison with battens, as well as being slightly subtler when viewed from the side. They also provide a way of allowing the mount to hang on a normal picture hook, but can also be hung from a batten, offering multiple hanging options.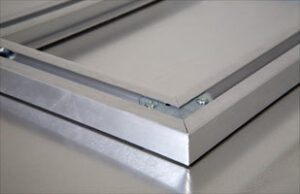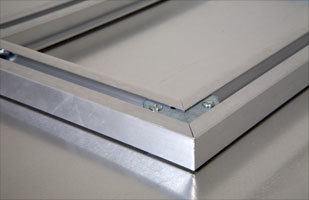 Split-Battens
Photo mounting with modern materials, such as aluminium and Dibond have become popular in recent years for their rigid, frameless sheer look and feel. The image appears to be floating and is due to their fixings. Split-battens are a set of wooden strips cut at an angle and designed to lock together. One is permanently fixed to the mount, whilst the other is for fixing to your wall. When using battens, the substrate can be up to a maximum size of 40×30 inches. Once over a metre square, there is not enough support for the mount using this method. Split-battens are a great way of achieving the floating aesthetic, but slightly more economical than a sub-frame due to the materials used.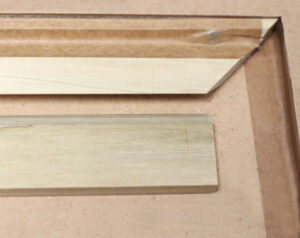 At Metro, we have a variety of materials and combinations available. We're always interested in hearing back and aim to provide you with the optimum quality for your ideal finished product. For any further information, feel free to call us at 020 7865 0000 or email at enquiries@metroimaging.co.uk
Collaborating on many of The Photographers' Gallery's exhibitions and events over the past few years including Terrence Donovan's Retrospective Show, Punk London, and their Folio Friday programme.