27.02.2014
Metroprint produce prints for a new exhibition showing two different perspectives of East London
'51 Faces of Hackney' is a new exhibition opening this week at the Proud Archivist Gallery, Hackney.  In partnership with Hoxton Mini Press, 51 Faces of Hackney illustrates the creative, vibrant and ever-changing areas of East London through illustrations by Adam Dant and a photographic series of work by Martin Usborne, featuring high quality art prints of a selection of work derived from two collectable series of books featuring art and photography of East London.
Metro is thrilled to have produced the prints via Metroprint and provided frames and hanging solutions for the show which features high quality art prints derived from two collectable series of books; illustrations from Adam Dant's '50 People of East London' and the debut photographic series of Joseph Markovitch from Martin Usborne's 'I've Lived in East London for 86 ½ years'.
'50 people of East London' features Hogarthian artwork of local characters by Adam Dant, an internationally renowned artist who lives and works in Shoreditch. Inspired by the 'Cries of London', a series of 18th century oil paintings of street sellers, Dant has produced illustrations packed with satire and the chaos that make up the melting pot that is East London today. His illustrations include the Smart Phone Diviner, App Billionaire, Elderly Left Wing Dad to the Late Night Banker, he portrays a witty and studiously accurate guide to the diverse, colourful and sometimes infuriating people you may find lurking in various quarters of East London.
'I've Lived in East London for 86 1⁄2 Years' is a wonderful insightful series of photographic images by Martin Usborne, a photographer, writer and the founder of the Hoxton Mini Press. The series tells the story of Joseph Markovitch, a man who was born in the area of Old Street and has lived in East London his entire life, only having left once to visit the seaside with his mother. It is a beautiful insight into a true British eccentric character that has blessed the East London streets for decades, someone who has witnessed first-hand all the changes that 86½ years bring in life.
Exhibition dates: 27th Feb – 30th March 2014 Opening times: 8:00am – 10:30pm, 7 days a week
The Proud Archivist, London, N1 5ET  Tel: 020 7749 6852
Copies of the two books featured in the exhibition can be bought at the gallery
Image © Martin Usbourne courtesy of Hoxton Mini Press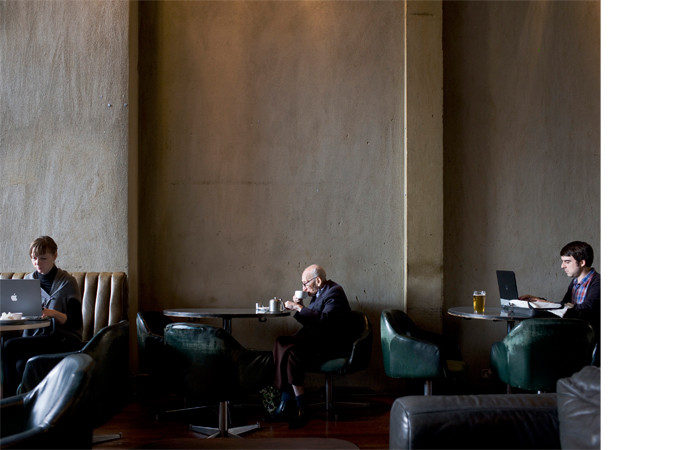 News Articles you might be interested in: