RCA Metro Prize winner 2013 – Michal Bar-Or
22.09.2013
Metro has been a supporter of young, upcoming photographers for many years, believing that nurturing student and undeveloped talent is a rewarding and satisfying commitment.
As part of our student programme we were delighted earlier in the summer to announce Michal Bar-Or as the winner of the Royal College of Art/Metro Imaging Prize 2013, awarding a £1000 credit at Metro plus an invaluable year's worth of professional practice mentorship.
Steve Macleod, Metro's creative director and part the panel of judges for the RCA Prize commented, "It was a very difficult task I must say as the level of work was incredibly high this year. We are delighted to be working with Michal, her work has the potential to go in so many directions and it will be a pleasure to see how it progresses over this next year."
Israeli born Michal titled her project 'Works from the Palestine Exploration Fund Archive' using her artistic practice to rethink the mechanisms we use to construct our histories and identities. With a collection of objects and images from the archive of the Palestine Exploration Fund (the first organisation established specifically for the study of Palestine in 1865) she looked at the very first European attempts to transform the notion of the land of Palestine by creating evidential links between the physical landscape and the Bible, using different conceptual and material approaches to challenge, disrupt and intervene with those past archeological documents challenging our notion of the land and our relationship to it.
"These (items) were imported, like me, from Palestine to London, in order to re-view my motherland through a foreign timeframe and ideology" Michal Bar-Or comments,
"This transformation still affects the reality and the politics of the region today.  Archaeology was one of the main tools for this transformation, as it created material evidence that could transform the biblical stories into historical facts.
"The work reflects upon my own identity. It exposes the dual relationship I have with my motherland as both a daughter of colonialists (Zionists), and as a native, as I don't know any other home.
Click for more information about 'Works from the Palestine Exploration Fund Archive' project
Click for more information about Michal Bar-Or
A short profile film about Michal has also been produced. Channel 4 & Saatchi Gallery as part of a group of films about the shortlisters in this year's New Sensations which selects the best UK art graduates  These will run during Channel 4's Random Acts strand.
Images © Michal Bar-Or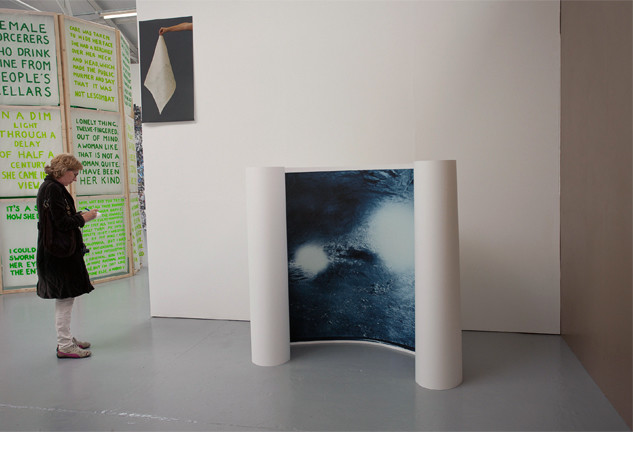 News Articles you might be interested in: