Juergen Teller 'Woo' at the ICA
25.01.2013
Metro is delighted to have recently produced eight fabulous 6 foot by 10 foot
Lightjet
prints by celebrated German born photographer and artist Juergen Teller for 'Woo' his first major solo exhibition in a decade, which runs at the Institute of Contemporary Arts until 17th March.
Teller, considered one of the most important photographers of his generation is renowned for his raw distinctive style, often said to reflect his sense of humour as well as emotional honesty.The images featuring numerous A-list celebrities and super models including Kate Moss, Kurt Cobain and Lily Cole, provide a seamless journey through Teller's hugely successful fashion and commercial career in which he has worked on commisions for Viviene Westwood, Marc Jacobs and Helmut Lang.
The exhibition also shows Teller's works entitled 'Picture and Words', 'Irene im Wald' and 'Keys to the House'. Picture and Words present images from his year-long weekly column in the German magazine Die Zeit. The images and more often the accompayning text in his column provoked outcry amongst readers and a selection of these letters are featured alongside the images.
'Irene im Wald' and 'Keys to the House' are Teller's most recent and more personal bodies of work which reveal the photographer's world in his hometown of Germany and his family home in Suffolk.
Click here for more information about the exhibition.
For more information about Juergen Teller and his past work click here.
Image 'Cerith, Suffolk 2011' © Juergen Teller
Exhibition image © Katie Palmer
Institute of Contemporary Arts, The Mall, London SW1Y 5AH

Exhibition dates: 23 January to 17 March 2013
Opening times: 11:00am – 6:00pm daily, except Thursday, 11:00am – 9:00pm.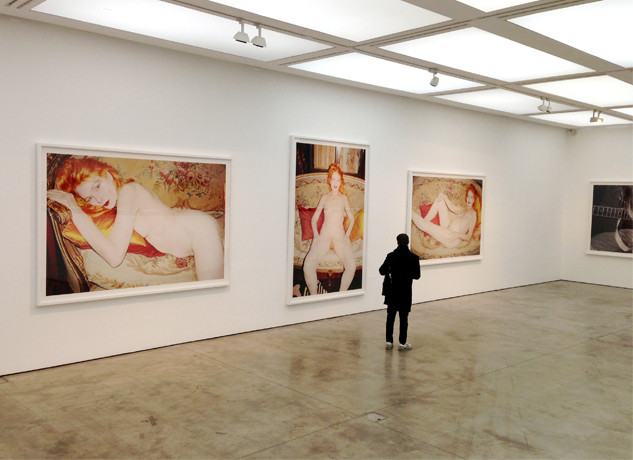 News Articles you might be interested in: