Metro's inkjet creative studio
20.11.2011
Metro is excited to introduce its superb Inkjet Creative Studio. Offering the latest generation Epson machines you can now experiment with outstanding quality prints of up to 64" in a uniquely equipped studio facility.
Proud of its tradition of experimentation and innovation, Metro has always strived to provide the best resources for photographers to pursue their creative ideals. And we believe our new Inkjet Creative Studio is just that resource.
So before we tell you all about our latest machine we thought you'd like to hear a little about the history behind our Inkjet Creative Studio; our passion for innovation, and how we have always sought perfection, just like you.
In 1998 we created Metro Art to offer photographers different print techniques, researching historic processes and taking the digital lead. We perfected Albumen, Salt, Print out Papers, Platinum, Tin Type, Gravure and Colour Carbaro. Most of these processes hadn't been used since the 1920s, so we had an interesting time finding the raw materials and techniques!
As digital print advanced we'd watched developments in the US using Iris printers to produce watercolour prints from digital. They wouldn't tell us their secrets, so again we started from scratch, and with a used Iris 3047 we tried a few watercolour papers, with disastrous results. Realising that the right paper was key, we looked for help. St Cuthbert's Mill in Somerset agreed to produce some test strips. After exhaustive testing we arrived at a Rag paper that produced stunning images.
Photographers were soon keen to use the Iris for exhibitions and the studio quickly grew to three Iris machines and two printers. We kept the Iris's running until we couldn't obtain parts,but with the amazing advancement of Epson technology this now wasn't a problem.
Today more and more photographers are experimenting with inkjet as an alternative to C Type. And manufacturers are bringing out interesting ranges of papers, including Baryta, smooth fine art papers and lovely fibre-based options that create effects not seen for years.
We are thrilled to add the Epson Stylus Pro 11880 to the Inkjet Creative Studio. As the latest professional, wide format printer it is ideal for fine art photography and proofing, producing outstanding true colour and black & white prints with long-lasting results.
But don't just take our word for it! Our studio is here for you to try out all the latest equipment. Whether you are putting together a show, or just want to experiment with ideas … come and have a look, we think you'll be impressed.
To find out more about the Inkjet Creative Studio, please contact us.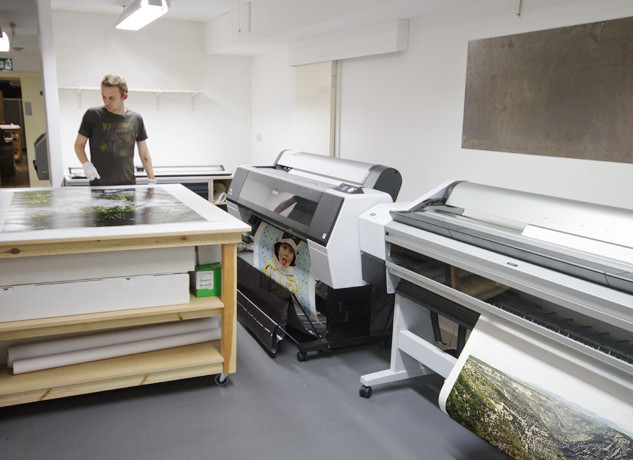 News Articles you might be interested in: